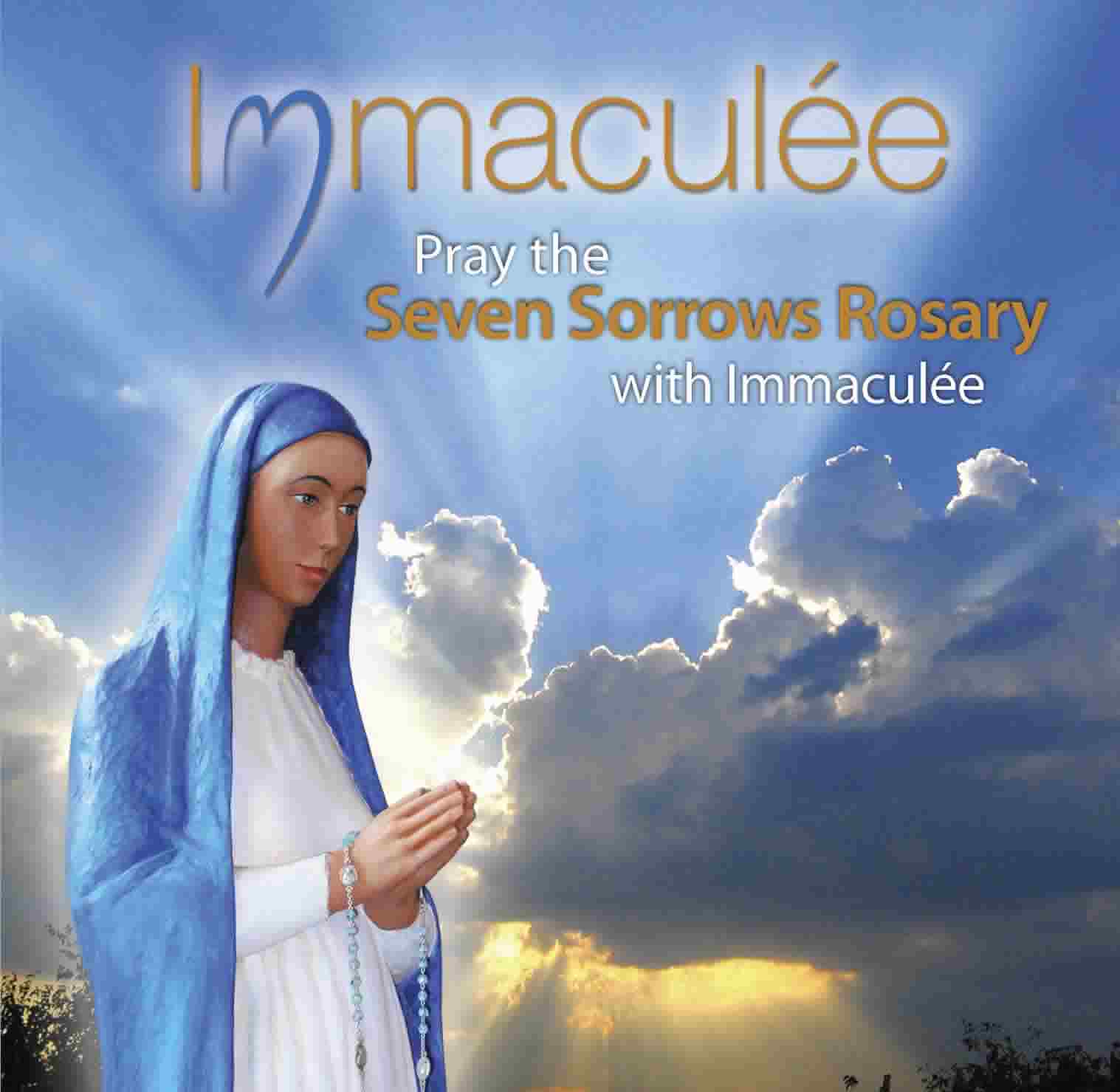 Seven Sorrows Rosary, a CD by Immaculée. Pray the Rosary this special way with an incredible and holy Rwandan woman who survived the massacres in that country and became close to the Church-approved apparitions and seers at Kibeho -- where the Blessed Mother urged recitation in this specific way to protect and help ourselves during the current difficult times and those that the Blessed Mother says are ahead! click here

__________________________________________________
IN INTERVIEWS WITH EMINENT THEOLOGIAN, SEERS FROM DISPUTED SITE HAD SAID CHURCH ISSUES WERE IN THEIR 'SECRETS, AS WELL AS LOCAL PARISH ITSELF
The recent stir concerning remarks from the Pope about Medjugorje, the famous site of apparitions in Bosnia-Hercegovina, points up the complicated relationship between Church and appearances of the Blessed Mother, who at Medjugorje, as elsewhere, has always promoted Holy Mass, obedience to authorities, and -- ardently -- the Church itself.
Intriguingly, the Church is said even to play a role in the secrets given to the Medjugorje visionaries. This was indicated in interviews with many early inquirers, especially those conducted by the world's best-known Mariologist, Father René Laurentin of France, who ended up a strong believer in Medjugorje, writing a number of books about the site and consulting Saint John Paul II, who took a positive view of the situation (as did Mother Teresa of Calcutta, who like John Paul II prayed to the Medjugorje Madonna). When asked about their secrets, seer Vicka Ivanković in fact said that "the first secret has to do with our church at Medjugorje" and also speaks about "the Church in general." "Some [of the secrets] concern us personally, others, the Church and the world," a second visionary, Ivanka Ivanković, had replied. "They have to do with us ourselves, the final sign, the whole world, and also Medjugorje," added Mirjana Dragicević.
Meanwhile, it has come to light that a book published in 2014 includes an interview between a priest named Father Alexander Awi Mello, at the time a doctoral student at IMRI, and Pope Francis in which the Holy Father expressed disapproval of the way seers had public apparitions and messages (as he did recently, the Pope referred to "scheduled" apparitions "at four p.m."). As noted by a newspaper (all we have at this point is a very rough translation), in the book Pope Francis rejects any hypothesis that one has apparitions of Our Lady on command. "On pages 235 and 236 the Pope spends his personal opinion about the apparitions of Our Lady in Medjugorje: 'In relation to Medjugorje, 'the Pope Francis continues, 'I forbade a meeting [back in Argentina) while we were here at the Conclave. So they knew I did not agree.' [Writes Father Mello] 'He (the Pope) explained to me that one of the Medjugorje visionaries would be in the Archdiocese for a meeting that would happen in a church. Then he told me why he had opposed the meeting, without, however, issuing an opinion on the authenticity of the apparition. This is because one of the visionaries would speak and give some explanations and then at four-thirty Our Lady would appear! That is, it has the agenda of Our Lady! So I told them, no; look, that kind of thing I do not want that here.' He said no. Not in the Church. The Pope concludes reinforcing below:
"'But we must distinguish that in Medjugorje, God makes miracles, you know? So in the midst of human follies, God continues working miracles, is it not so? Maybe there are more personal phenomena. Reach me some letters, but you see that there are more psychological issues ... We have to distinguish good things ... "
At another time, when Father Mello and the Pope were walking in the Apostolic Palace, and Pope Francis returned to the subject, "as if the question were working inside: [Said the Pope] 'The theme of the apparitions, to be clear. Try to see the side of the locution. So, as I said, it will be from one extreme to another. Sometimes this phrase almost physically embodies a vision and can sometimes be mere inspiration.' For example, said the Pope, seeking concepts to express what you think about these phenomena, 'those people who feel that Our Lady tells you something has a voiceover in prayer and then said: Our Lady told me that ... Of course, they express it in a way that it seems that it appeared to them ... But to that, seers are protagonists and they organize scheduled appearances ... This is the sin that can accompany a great Grace."
On Church matters, in early interviews during the 1980s, the seers related what they said was Mary's desire for them to enter religious life. When asked during interviews with Father Laurentin if the Blessed Mother told them what they should do in life, seer Marija Pavlović, replied, "She proposed to us to enter religious life, if we wanted to. She said that was what she wanted." A second, Jacov Ĉolo, said, "Her desire is that we all enter religious life." More directly, Vicka quoted Mary, as saying, "I wish that you become nuns and priests, but I do not wish to oblige anyone." She never has infringed on their free will. "Our Lady told us, 'If you should wish to become nuns, that would be my wish as well,'" recalled Ivanka. "But if you do not wish it, then it is better not to do it.' She said: on condition that we can and that we desire to, but not to enter and then leave; to bring dishonor to the Church and everyone!" Mirjana told Father Laurentin (as quoted in his landmark 1984 book, Is the Virgin Mary Appearing at Medjugorje?) that "we told her only that some among us desire to become nuns or Franciscan friars, and that the others wished to continue their life as it is now. She said that was our affair. She said that both the one and the other were good. She explained and gave her advice." "I asked her if I should become a priest," said the final seer, Ivan Dragicević. "She said to me: 'That is for you to decide.'"
In those early days, before a massive influx of pilgrims, especially from highly secularized Italy and the United States, four of the six told the theologian that they planned to become religious. A final decision on Medjugorje is not expected for months. During a homily at Saint Marta's House last Tuesday (6/9/15), the Pope made headlines (particularly in the skeptical secular media), by criticizing those who have daily apparitions at set times and relate messages that people "live on," as if they are a "post office."
Most took it to be a reference of the three seers who still report apparitions, although there are many other seers and locutionists elsewhere in the world who also claim regular apparitions, visions, and locutions -- one making headlines shortly before the Pope's remark when a book of alleged messages from this unidentified "seer" was thrust upon retired Pope Emeritus Benedict XVI during a private meeting (upsetting those around the retired Pope, who no doubt has seen his share of messages).
As for Medjugorje: the speculation is that the Church will express skepticism toward or a wait-and-see attitude about the foundational apparitions, while designing guidelines that would form the parish into a general Marian shrine under stricter Church control. Was this in the secrets? The visionaries have shown peace throughout the recent uproar, as has the village. Tens of millions have gone there and been converted.
But no one is sure of the current Pope's views, and he has surprised before.
It will be a historic pronouncement, for Medjugorje ranks as one of the most prominent Marian apparitions in history, alongside Lourdes, Fatima, Guadalupe, Le Puy (popular in the early Church), Saragossa, the Miraculous Medal site in Paris, and Knock in Ireland.
In his book, a religious bestseller when it came out, Father Laurentin expressed his view that, in the current skeptical and psychoanalytic climate, the apparitioons at Lourdes would not have been recognized by the Church. Father Laurentin wrote the definite work on Bernadette's apparitions.
Referring to problems in the third century with Montanists, a charismatic movement that started promisingly but became tainted with excesses, the theologian wrote, "Since that time, ecclesiastical authority has often been very strict when faced with visions, charisms, and extraordinary phenomena. It is always a problem for officially established authority when 'spiritual' people or visionaries arise whose direct line to God acquires an authority greater than their own. A bishop is all the more likely to fear a rise of such parallel authority to the degree that the communication with Heaven which passes back and forth can be colored by the subjectivity of the visionary. Then, too, those in authority can tend to be hardened when their own degree of holiness leaves something to be desired. This seems to have been the case with several fervent religious groups in the Middle Ages who followed in the wake of the Franciscans. Francis of Assisi himself was well-accepted, despite some apprehension, because of his marvelous obedience and love." There is also the example of Saint Padre Pio, who strictly obeyed a hostile bishop who prevented him from celebrating public Mass and hearing confessions for years. The Vatican came close to rejecting Saint Pio and the miraculous (to many, "far out") claims attached to him.
His adherence to Church authority eventually won the day.
At Medjugorje, the Virgin has always preached strict obedience to authorities, and in fact, as the Bible says, "Obedience is more desired than sacrifice."
[resources: Queen of Peace video and The Triumph]

Spirit Daily on Twitter Facebook
Specials:
25% OFF! THE SEVEN - BY MICHAEL H. BROWN
15% OFF! SEVEN DAYS WITH MARY - BY MICHAEL H. BROWN
3 FOR $18! THE OTHER SIDE - BY MICHAEL H. BROWN
Mary Undoer of Knots plus The Holy Cloak novena, $7.25

Michael Brown's books on Kindle or Nook
Return to home page www.spiritdaily.com