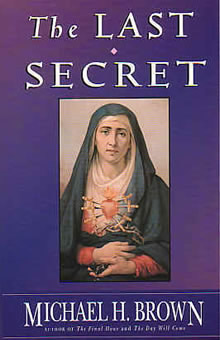 The Last Secret by Michael Brown A look at the apparitions of the Virgin Mary throughout Church history, from the year 40 A.D. to present! You'll be astonished at the number. This is the first comprehensive history of Mary's entire history of apparitions -- how they helped form history, how Mary intervened to institute the Church, to heal, and to save her people from war and plague -- to the current day. Originally released in 1997 and now newly republished, this book is historical but will amaze you with the way the Blessed Mother helped build up what is now the oldest institution on earth! Heavy on history, it's a work meant to be a reference. click here
---


__________________________________________________
POPE'S QUIET DEVOTION TO MARY MAY HAVE ROOTS IN A MIRACULOUS IMAGE
As the month of Mary begins it's interesting to note in a book by the Pope's brother that Benedict XVI had a lifelong attachment to the Blessed Mother.
It started at a shrine in a town called Absam, which is near Innsbruck, Austria.
As the book, My Brother the Pope, explains, "In it pilgrims venerate an image of Mary that is quite different from the Black Madonna of Czestochowa in Poland, or any other miraculous image of the Mother of God in one of the many places of pilgrimage in old Europe.
"For it is the only one in the Old World that claims to be 'not made by human hands' and is thus comparable only to the tilma in Guadalupe, Mexico.
"How it came to be is in any case a riddle that science to this day cannot answer."
As a website called Sacred Places explains: "On a snowy January 17, 1797, eighteen-year-old Rosina Buecher was quietly sewing at the family dinner table when she felt a sudden terror. Her father, who was at work in the salt mines, came immediately to her mind and she feared he had been in a terrible accident. Instinctively, she looked out the window -- and beheld quite an unexpected sight. An image of a beautiful young woman had appeared in the windowpane next to her. She called to her mother, who saw it too, and they both thought it must be the Blessed Virgin.
"They contacted the parish priest and alerted the neighbors, and everyone agreed the image was a portrait of the Virgin Mary. Rosina's mother worried the image was a bad sign, but Rosina herself hoped it was a message that her father and brother would return home safely despite her premonition.
"Indeed they did and, moreover, reported that they had barely escaped involvement in an accident at the salt mine. The parish priest had the windowpane removed for examination by experts, who discovered that the image disappeared when submerged in water, but reappeared as before when dry. The origin of the image was declared undetermined, and both the priest and bishop declared the image to be miraculous. Soon, miraculous healings began to occur after praying to Our Lady of Absam. Those who were healed donated ex-votos of small paintings to the church, most of which depict a sick person lying in bed or a worshipper at prayer, with the words ex-voto ('out of thanks'), a date, and a small image of the apparition. These have all been kept and can be seen in the Chapel of Ex-Votos outside the church."
For our discernment.
Is it really Mary?
It was branded in the glass like a rough drawing, notes the book, her expression serious -- both sad and hopeful, which touches hearts deeply. It turns out -- like our own time -- that 1797 was a difficult year for the Church. The cold winds of rationalism (the "enlightenment") had swept across the area and troops were installing the values of the (anti-Catholic) French Revolution.
At one point, the glass was scrubbed and the image disappeared -- but then reappeared. "Even attempts to sand it off or to remove it permanently with acid failed miserably," notes the book, by Georg Ratzinger with Michael Hesemann. The diocese eventually relented and allowed transfer to Saint Michael's Church there. It measures 5"x7" and is enshrined on a side altar.
Many are those who like to be married there.
This was true of a couple from Mϋhlbach who were wed in Absam on July 13, 1885: Maria Tauber-Peintner and a baker named Isidor Riegoer -- the grandparents of Pope Benedict. The Pope's parents were also married in Absam thirty-five years later and in fact the pontiff's parents met through an advertisement placed in a Marian publication, bringing it full circle, and intimating at a special connection between Mary and Benedict XVI.
[picture courtesy of Roman Catholic Saints]

Return to home page www.spiritdaily.com