Break Open Your Wells, by Maria Vadia, another anointed, Spirit-led book of surprising little insights on how best we open the reserves of grace, joy, and healing that are within us -- how we can fully utilize the gifts God gives us by inner cleansing and discovery of the 'living waters' -- the wells -- that are waiting to refresh and transform our lives and the lives of those around us! Deliverance, praise, and unlocking our love for Christ!
CLICK HERE
---


__________________________________________________
The mailbag:
'NOWHERE TO BE SEEN': ACCOUNTS CONTINUE OF MYSTERIOUS RESCUERS WHO SUDDENLY VANISH
The articles we've had on angelic encounters -- especially mysterious strangers (during car trouble) -- continue to generate fascinating accounts (in the mailbag). Recall that it was an angel who announced the coming of Mary at Fatima and led St. Catherine Labourť to the apparition known as the Miraculous Medal.
It's pretty uplifting to know our angels are there, especially -- as we have reported -- when there's difficulty. And it's the way they leave -- or don't leave -- that often draws our greatest notice.
"Many years ago we also experienced a similar event with car problems and an angel," writes Stacy Portko of York Springs, Pennsylvania. "It was a blizzard. We are the parents of eight children. When our then fourth child was about to be born, one of our children decided he wanted to have an orange and got an ordinary kitchen butter knife out of the drawer and started sawing it. Making a long story short, he of course sliced his finger pretty good.
"We live out in the country and the hospital was about twenty miles away. We made the decision to try it ... the roads were treacherous. About a mile and a half from our home, we hit snow drifts on a back road and were stuck. My husband got out and desperately was trying to get us out of the drift.
"I felt helpless because I was very pregnant and unable to assist him. The snow was blowing so hard we could hardly see (it was dark outside). Then out of nowhere this man showed up and started to help; he had a shovel and helped us to get turned around so we could go back home. When my husband turned to thank him, he was gone."
"A few years ago my 22-year-old niece was driving home from work on the Schuylkill Expressway in Philadelphia," pens another Pennsylvanian, Joan Fox, of Middletown. "It was storming, there was flooding, and all traffic was detoured off the expressway into the city.
"She had no idea where she was or which way to go. Then the car stalled. As she looked around she panicked. It was pouring, the streets were under water, and all she could see was dilapidated houses with broken-out windows and doors and deserted streets except for a group of frightening-looking youths standing nearby at a boarded-up old gas station.
"She kept trying to start the car, but nothing. She locked her doors and called her parents and tried to give them an idea of where she was but was crying so hard they couldnít understand what she was saying! Then her phone battery went dead.
"All they could do was pray. All she could do was cry.
"Then she heard a knock at the window and saw a blond, blue-eyed young man motioning for her to pop open the hood. She did and a minute later he motioned to her to turn the key and the car started! Amazingly her phone rang at the same time.
"As she picked up her phone she looked up to thank the young man but he was nowhere to be seen. After she drove a short distance her parents were able to give her directions to get home. She was sure it was her guardian angel."
Actually it's not only the sudden exits but also mysterious arrivals.
Recalls Mary Ann Naples: "It was in 1973 or 1974 and I was traveling with my three children, ages approximately two, four, and six. Also, my parents were in the little Volkswagen Beetle Bug that I owned. Mom sat in the back with two of the children and one was in the far back with my dad in the front. We were on our way to the Shop Rite Shopping Center when I got a flat tire in the parking lot on my way to a parking spot.
"All of a sudden, a car pulled up and three tall young men got out and proceeded to fix the tire with the family in the car; I was outside the car watching. I noted that one of the young men was very striking looking with black curly or wavy hair. When they finished, I bent into the passenger's side to get money out of my purse to give them. When I turned around, they were gone as fast as they came. Not one of my family members in the car saw them leave. I firmly believe we were visited by angels sent by God to help us. All I could do was to give Glory to God and witness to this at the charismatic prayer meeting on the next meeting evening and occasionally in the years since. Praise the Lord now and forever!"
God also sends help, of course, in the way of actual humans.
"After going to daily Mass on July 10, 2007, I got on the Northern State Highway here on Long Island, looked at my rearview mirror, and saw a red car coming towards me," says Lee Paolino. "It was going around 90 miles an hour when it hit me and the force pushed my car into the center lane -- then the left lane until I hit the concrete divider! The impact spun my car toward the oncoming traffic in the left lane.
"I remember thinking very calmly, 'and now I am going to die,' and with that thought all three lanes of traffic came to a halt as if a wall was put up.
"A man walked toward my car and told me he worked for the Metropolitan Transit Authority and to get out because the air bags were deployed and the white power is toxic.
"I grabbed my bag. This kind man opened the car door and we walked across the three lanes of the highway. I remember praying for the person who hit me; his car went off the highway and hit a tree (he was not injured). Then I went to thank the man who got me out of the car, but I don't even remember seeing him again and all those details are vivid. A Hispanic woman called Nadia was at the side of the highway in her mini-van very upset because she saw the whole accident she couldn't believe I wasn't hurt. But that man to this day I do not know his name however I keep him in prayer, I know God sent him to me at that moment."
"As today [sent September 29, 2011] is the feast of the archangels, I would like to share this story about my mother and grandmother," wrote Laura Sniegowski of Plainfield, Illinois. "It took place in the Seventies when I was in high school.
"At that time, my parents had moved my grandmother into an apartment. Her husband, my grandfather, had passed away in 1974.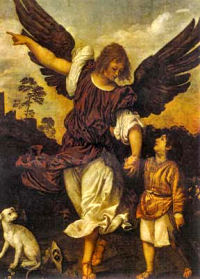 "This particular day, my mother had picked up my grandmother for a weekday 5:15 p.m. Mass in town. I can't remember the month, but it was cold. The two women attended the Mass and, as was their custom, stayed after mass a short while to pray.
"While they were inside the church, there must have been a freezing rain, because as they exited the church, they noticed a sheet of ice over everything. As they both descended the cement steps in front of the church, both women fell, hurting themselves in the process.
"No one was around. All the other Mass attendees had left. My mother told me she thought to herself, 'what will I do? I have my elderly mother here and I can't help her. No one is around.'
"Then, out of nowhere, there was a man helping them. My mother said that he was so handsome she had to look away. He hardly spoke. He helped them both to their car. As my mother sat in the driver's side -- somewhat shaken up -- the man was on the passenger's side conversing with my grandmother. When my mother recollected herself, she thought about the man and it came to her mind that it was St. Raphael. But before she said anything, my grandmother spoke and said, 'That was St. Raphael.' Since then, they have both passed on to eternity; if they haven't yet, I am sure they will meet with St. Raphael again."
[see also: The Guardian Angels, The Angels Magazine, Angels in my Hair, The Trumpet of Gabriel, and Queen of Angels]
[About photo at the bottom, digitally darkened: "I noticed your posting today about interesting pictures. (9.21.2011) I have one. It came about last October as I was ending my work day, kneeling and praying a Rosary, and had this new found fire of Mary in my heart (which I still do) And after learning of signs in the sky God has provided in the past at various sites I asked Mary for a sign. I thought it was pretty absurd of me to do that but I had been praying so devoutly for the last couple months I thought it would be nice to get a confirmation on my path. After praying a rosary at my office and to head home I went outside to a beautiful cloud display -- I thought I saw something so I took a picture with my iPhone. Looking closer it was just a neat cloud display. I was cleaning up my phone this past summer and came across this picture and for whatever reason I looked closer. What I personally saw amazed me -- I will let you be the judge.
"Our Mother says to let our lives act as the guide and not preach or push our faith so I have only shown this to a couple friends and family -- to me it is a testament to my personal path but I know it is not for me to show this amazing picture to anyone and everyone. If you look closer toward left center maybe you will see what I see, right above the glowing sun area. I saw your current pics and was inspired to share mine. I have tried to document my journey as in just over a year as Mary has been blessed me with many graces and I am learning to carry my crosses as well for the salvation of mankind and our Blessed Motherís intentions. I know all that happens in my life is her will, Jesusí and Godís. I send this to you because maybe it can bring another soul to our Blessed Mother -- which is what I pray for each and every day. Glory be to God. Praise be to Jesus and Mary forever."
-- Michael F. Ross]
[resources too: In the Arms of Angels]