Seven Days With Mary by M. Brown A week of devotions to special sites that involved the Virgin Mary. Special prayer and histories of historic and hidden apparitions and visions! Photos. Journey to remote sites you've never heard of or learn some hidden facts about places you have! A new prayer book that's like going on retreat. Each section has the history of a major apparition and a long prayer that includes novenas, special supplications, and litanies. CLICK HERE

---


__________________________________________________
WHETHER ANGELS OR SAINTS, EVERY SINGLE DETAIL OF OUR LIVES IS UNDER THEIR WATCH
Intriguing it is how angels intervene in our lives and our families. They watch over entire households. Last December was an account of a mysterious stranger who knocked at a door in the middle of the night to alert a Virginia family of a fire.
The family "could have been trapped inside had a woman not knocked on her door at four a.m.," said the news item about "a mysterious woman" who "alerted Trecika Dunlap to a house fire."
After they were safe, the woman had vanished.
This is often reported too in car accidents: a mysterious, consoling person, perhaps holding the hand of the injured.
It is precisely how many angelic interventions occur.
Angels can help in human form, visibly -- or invisibly. "It's what I do," said one such other mysterious stranger who came at a critical moment.
"A couple of years ago there was a TV weather warning and I saw outside a growing storm," a woman named Elaine wrote us. "I was alone and the storm windows were not up yet and there was no way I could put them up because I was physically limited, for I had suffered from a stroke a few years before.
"But I thought: I'll pray and somehow I would be able to do it. I was 84 at the time but at least I thought I could get the windows in the kitchen because it was so drafty there. At other times one of the men from my community would do this for me and he would have to push the windows from the outside to get them to fit tightly or one could see an opening from the inside and feel the air coming in.
"Well I put in the windows but couldn't get them to close no matter how much I prayed. Finally, I turned my back on them in disgust -- and suddenly in my head I heard a voice that said, 'ask your guardian angel,' and I angrily shouted that I already had!
"Behind me I heard a shhhhhing sound and I turned around and to my amazement the windows were now tightly shut.
"I must screamed, 'you're alive, you heard me,' and I was jumping up and down like I never did before and knew my angel was alive and with me always. I am so thankful for the Lord giving me this wonderful gift of an angel who is always with me and helps me so much!"

When we die, we'll see that angels are indeed with us at every turn -- that they can appear in many ways, and that they know the details of our lives as we do not know ourselves. Along with the Lord, they will show us scenes from our own infancies on up to the present!

Their signs come in all sizes and shapes. In Cleveland a man diagnosed with cancer had taken a photo of a rose before he got ill and it became his consolation.
When one looked at it closely, there was the outline of an angel playing a trumpet.
"I was leaving Halifax, Nova Scotia, in June of 1973, after turning down an invitation to renew my contract for another year with the Atlantic Symphony Orchestra," wrote Brian Taylor of Toronto. "My intent was to leave early in the morning, just after breakfast, for the trip to Toronto, but it just didn't happen that way. I ended up getting in my car after lunch, around 1:00 p.m. At 1:00 a.m. I was still behind the wheel, westbound, on the western side of New Brunswick. The road there was one lane each way. I felt three taps on my shoulder ... and I woke up.
"I knew that I had left Halifax alone -- that I hadn't stopped since dinner, that no one had got into the car with me. Still, I looked over my shoulder, and of course there was no one there. So I simply negotiated the curve -- about an 80-degree turn -- avoiding a sudden drop into a forest and only to see a man in the middle of the road in front of me, waving down the oncoming traffic.
"Behind him, there was a motorcycle accident all over the road. Even if I had gone around that curve in my sleep, I still would have ploughed my Volkswagen Beetle into the accident at highway speed."
Saints function similarly -- tapping us on the shoulder and raising a question:
Are some "angels" humans who are on the other side and helping us?
We certainly know that certain saints are unusually responsive -- especially St. Joseph.
Recalled a viewer who got into a serious accident on the way to meet her biological father (whose name is Joseph):
"When in the ambulance, I was given a choice to go to St. Joseph's hospital or [a medical center], and I chose St. Joseph's hospital. The most amazing thing about that accident is that my car was totaled, and seeing the driver's side, there was like a protective bubble around the area I was.
"It was amazing to see the vehicle. I should have been more injured than just a scratch on my leg.
"During my three-day stay, I had a male nurse named Joseph. When I got out of the hospital, my sister and I went to Christmas Eve Mass. The parish had a large statue of St. Joseph on the right side of the church. We sat close to the front, and when the pageant was completed by the children, little St. Joseph sat in the seat in front of us.
"Upon returning home after a long trip, I found out that a dear parishioner prayed a novena to St. Joseph for my safety!
"The story does not end there.
"Two years later, St. Joseph came through for me again. I had surgery for cancer on January 4, 2002 -- and then again on February 21, 2002. I was scheduled for heart surgery three times -- and three times an unfortunate event would occur."
The surgery was finally done on March 19th -- which, of course, is St. Joseph's feast day. Does anyone doubt that visible or not he was present?
[resources: St. Joseph novena and The Holy Cloak]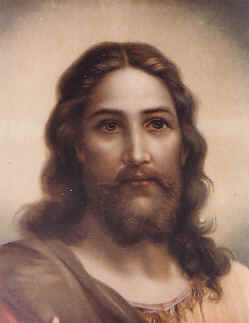 Return to home page www.spiritdaily.com