Occult watch: a 'cursed' pillar?
The story, recently presented on the Weather Channel, has to do with an Old-Testament-like prophet-evangelist in the 1870s, complete with straying beard and shouting brimstone voice in Augusta, Georgia, where, it's said, he had gone through the city admonishing those within earshot to forsake rampant materialism or risk disaster. He focused primarily on the town's marketplace, where a pillar, once perhaps used to tie slaves, but more likely simply a buttress, stood. At best considered eccentric, the ranting doomsayer was tossed out of one establishment: prohibited from preaching in the business district, when his voice grew a bit too insistent.
According to a TV re-enactment, the preacher, never named (perhaps even a fictional character), got to his feet when he was thrown out a door and dragging himself back up, issued a curse -- invoking the wind to come and destroy the area around Broad Street.
That's when it happened.
"On the night of February 7, 1878, a powerful storm sometimes described as a cyclone or tornado struck Augusta, killing two and causing widespread damage, including collapsing the Old Market, a large building in the middle of Broad Street," noted a (skeptical) local newspaper columnist writing about the curse. "One pillar of that market remained standing, a fact that our town's less educated citizenry attributed to some mystic power. This belief almost immediately brought amusement to newspaper reporters."
According to the Weather Channel -- which was decidedly less skeptical -- the preacher had also warned that anyone who meddled with the pillar (which for some reason he was endeared with, perhaps because he grabbed it to get back up) would be stricken with ill fortune. Over the years, it's said, that is precisely what has happened. "I was introduced to the Pillar and the Female Slave curse story involving the split up of her family to different owners," noted a comment to the column. "For me that was 1959 during the downtown Christmas Parade. My mother told me the story, telling me it was told to her by her own grandmother in the 1930's, so minus about another 70 years from 1959 and we are talking 1889'ish. So let us say, considering how any slaves' curse would have been recorded at the time, I go with what I was told by family."
Today the pillar stands at Fifth and Broad, sort of a macabre tourist attraction for curiosity-seekers who insist -- on national TV -- that fussing with the pillar has indeed caused serious repercussions, including accidents, illness, and even death. Hokum?
Don't get us wrong: we recognize the existence of curses. The Bible teaches that they are real. There were many curses in the Old Testament. If you search the word "curse" in the Bible, you'll get 172 entries.
We curse ourselves when we are self-defeatist, when we say things like "it kills me" and "this makes me sick," and we curse others when we harbor jealousy, resentment, anger, unforgiveness, and other negative emotions. A curse can come by simply wishing someone less than the best. When things persistently go wrong in our lives, it doesn't hurt to ask the Holy Spirit if a "curse" is operating. We negate such when we bless those who curse us.
But a haunted pillar?
"Accounts up until the late 1950s tell of unfortunate Augusta highway workers who were struck by thunderbolts or crushed by their machinery when they tried to move the pillar," says a website called Roadside America. One man who didn't believe in the curse told the Weather Channel that after touching it (in mocking defiance), he suffered a mysterious, terrible fever that kept him in bed, with the shakes, for six weeks. No doctor knew what was wrong with him. No medication cured.
The power of suggestion?
The Weather Channel also interviewed a police officer who said that thirty-four percent of serious accidents in that part of town occurred near the pillar -- far beyond what one would expect. Yes, there is a chance it's true.
But doubters there are. The owner of a liquor store near the pillar told the Roadside site that "people touch that column every day [without ill effect]. They lean against it, wrap their arms around it, climb on top of it. It's just amazing how people react to that column."
Perhaps there is nothing to it. But it is always best to stay away from "haunted" this and "cursed" that and not to seek such things out of curiosity (including "ghost tours," ghost hunters, psychic exorcists, and "haunted" houses this weekend, 10/31/15, except perhaps to toss Holy Water). They may be superstitions; they may also be dangerous. (See The Spirits Around Us.) Know where evil is but then move on. For the devil does two things: he inspires superstition at one extreme, causing us to obsess over threats, real or imagined, and inspires uninformed skepticism at the other extreme, such that we don't recognize where danger is. Many skeptics are skeptics through simple lack of knowledge (and investigation). Many are those who think the Ouija board is just a game -- but it was behind the famous case upon which they based The Exorcist. And real-life exorcists warn against it. This stuff even comes through the computer or television. Ever notice how many unsavory things are connected with haunted attractions?
Like the bite from a tick, you may not feel the effect until days or weeks after.
The newspaper columnist, Bill Kirby, says it's all legend and that the story was concocted by publicists from New York who were hired to put Augusta on the tourist map. Then again, many newspaper reporters are cynical about a lot of things (particularly the supernatural). A spiritual note: the man with the six-week fever says his malady ended -- and did so instantly -- once he acknowledged that there had been a curse. Sometimes spiritual problems linger until they are recognized. Once recognized, they scatter as cockroaches, when a light is turned on, unless we dwell upon them, unless we choose to remain in the dark.

Donations: we need and appreciate them!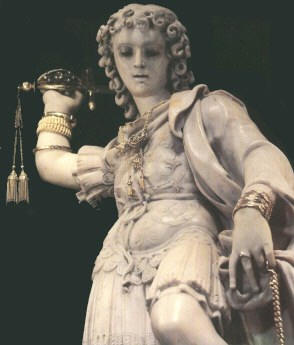 Mary Undoer of Knots plus The Holy Cloak novena, $7.25

Michael Brown's books on Kindle or Nook
Return to home page: www.spiritdaily.com