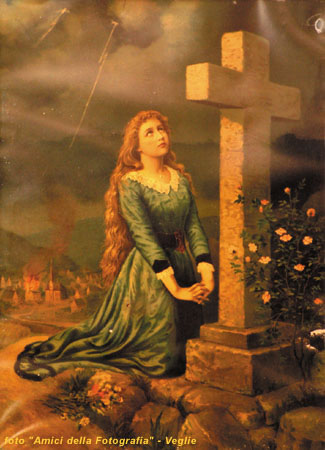 Prayer: The Great Means of Grace, a dynamic little booklet that brings home the tremendous benefit -- and results -- of prayer. According to the great St. Alphonsus Liguori, our choice between heaven and hell depends on whether we pray. And St. Teresa of Avila wanted to stand on a high mountain to cry out constantly to the world: "Pray, pray, pray!" Full of Catholic teachings and the words of saints, this booklet moves us to improve our prayer life, no matter how extensive it already is.
CLICK HERE
---


__________________________________________________
IS IT REALLY DEBATE? LOOKING AT THE ARGUMENT OVER BETHLEHEM IN JUDEA VS. ONE NEAR GALILEE
Of late, Bethlehem is in the news -- and not just for Christmas. Recently, there was a little stir in Arutz Sheva, an Israeli newspaper, over Vatican attempts (bravo!) to gain more control over holy sites in that beleaguered area.
It is the land of conflict. It is the land of agitation. There are those who debate whether or not Rome should control the Garden of Gethsemane and the Mount of Olives and the Cenacle on Mount Zion (where now there is a Jewish site dedicated to King David). There is debate over a massive security wall that now separates Bethlehem from Jerusalem. There is debate over whether the Old City of Jerusalem should be placed in the hands of a special international group.
And then there are the age-old debates; among these: whether Bethlehem -- in Judea (the mountainous southern part, near Jerusalem) -- is actually the birthplace of Jesus.
We recently mentioned how some scholars try to argue that when it described the Nativity, Holy Scripture was actually alluding to another town -- also named Bethlehem -- but farther -- a week's walk -- to the north, near the Sea of Galilee, where Mary conceived by the Holy Spirit and where Jesus was raised and ministered. There is an ancient Christian church in this, far lesser known Bethlehem of Galilee, lending interest to it as a possible place of significance in biblical times. Certain archeologists argue that there is no physical evidence of settlement in the famous Bethlehem-of-Judea vicinity 2,000 years ago (though there was much older human activity during prehistoric times) while the Bethlehem in Galilee did have such activity and precisely during that period.
Notes Answers.com:
"If Mary and Joseph traveled from Nazareth to Bethlehem, as stated in Luke's Gospel, the distance in a straight line from Nazareth to Bethlehem is not important to the time such a journey would have taken. Samaria lay between Galilee and Judea, the region in which the town of Bethlehem lay. There was much ill feeling between the Samaritans and the Jews, although they practiced much the same religion. Any lone traveler crossing from Galilee into Samaria would be at risk of attack and would certainly not receive lodgings or any other type of assistance on the journey. The family would have had to travel east, cross over into modern-day Jordan and then travel south on the eastern side of the Jordan River, before crossing back into Judea. This is a much longer journey.

"Tradition has it that Mary, because she was heavily pregnant, rode on a donkey while Joseph walked. A fit man leading this donkey could have, at a guess, traveled perhaps twenty miles a day. However, some Christians say that Joseph must have been a older man, past his prime. Perhaps the best guess is that this journey would have taken at least a week.
"The common form of travel in those days was by caravan, especially with long trips. Such a mode was far safer in case of accident or injury or possible attack by bandits, as well as being more enjoyable. With a census like this involving as many people as it did, a caravan going to Bethlehem would not be hard to find or join. Caravans would travel about twenty miles in a day, and the distance between Nazareth and Bethlehem (eighty miles) would translate into a four-day journey. As stated in above answer, normally it would take about four days to travel from Nazareth to Bethlehem. However, Mary (nearing her pregnancy term and riding a donkey) would require more than four days for fear of miscarriage. So perhaps a week (or more) would have been needed."
In other words, the Bethlehem in Galilee was far closer!
But as a viewer from Canada, Catherine Dorland of Prince Edward Island, counters:

"If a person turned to the Bible and looked up Micah 5:2, they would find through the words of the prophets this passage that foretold the coming of Jesus and the location of our Savior's birthplace: 'But you, O Bethlehem Ephrathah, who are little to be among the clans of Judah, from you shall come forth for me one who is to be the ruler in Israel, whose origin is from of old, from ancient days.'
"Also in St. Luke's account of the birth of Jesus (Luke 2: 1-7) he sets out the events surrounding the birth: 'In those days Caesar Augustus published a decree ordering a census of the whole world. This first census took place while Quirinius was governor of Syria. Everyone went to register, each to his own town. And so Joseph went from the town of Nazareth in Galilee to Judea, to David's town of Bethlehem -- because he was of the house and lineage of David to register with Mary, his espoused wife, who was with child. While they were there the days of her confinement were completed. She gave birth to her first-born Son...'

"We also refer to the account given by the apostle Matthew (Matthew 2:1): 'After Jesus has been born in Bethlehem in Judah...' God was foretelling that His Son Jesus was to be born in Bethlehem in Judah in the prophecy of Micah. Then Matthew confirms that the birth was in Bethlehem in Judah, and Luke gives in his account... again confirming Jesus' birth in Bethlehem in Judah. I am sure there are many other passages evident in the bible.

"Does the Bible lie or get confused in it's facts or writings? In reading your article, it seems that the archaeologists and other authorities have used 'reasoning' to explain their 'discoveries.' We must be on guard because reasoning has oft times brought confusion which can be the work of Satan and the downfall of souls and lost graces. Just a reminder... the Bible was given to us through the Holy Spirit... God. I rather believe the Word of God than the word of man. Christmas blessings and greetings to you all..."
We'll go (as we always have) with Judea.
[see also: Color of the sheep of Bethlehem and 'O Little Town of Mystery: The Hidden History, Conflicts, and Miracles At Site of Nativity.']

Return to home page www.spiritdaily.com