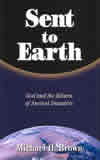 Sent to Earth (Michael Brown) Throughout the centuries, since Noah, there have been strange times: periods when floods, earthquakes, tidal waves, storms, droughts, plagues, volcanoes, and even asteroid or comet activity have haunted the earth. The hints are right there in the nightly news. It's about to happen again. God is poised to send major events, and it's for a simple reason. Like the people in ancient times, we've allowed evil to build up, and as a result we face happenings everywhere. This is the book Mother Angelica has called 'awesome.' As featured too by Archbishop Philip Hannan of New Orleans.
click here
---


__________________________________________________
Were there hidden lessons at the Crucifixion? Many. Perhaps among these, two for a focus today. First, we see how the crowd reviling Jesus Crucified demanded of Him to come down from the Cross if He was Who He said He was. They demanded a miracle. They required a sign. God does not give in to this. We see that He always has something bigger in store: They wanted Jesus to be able to simply pull those nails out and ease Himself down, but instead, three days later, He gave the greatest sign in history when He resurrected. Never mind coming down from the Cross: He rose from the dead! God gives signs when He wants and in His own way; they are usually unanticipated and always more powerful. He does this in our lives. Mostly, it requires patience, true prayer, and humility. It was the humble who saw Him after His Resurrection. We thus see this lesson from Calvary and also that of the quake: Those who had mocked Him, who had exercised legalistic religiosity (in the place of love), who refused to heed His words, those who had demanded that He prove Himself by coming down from the Cross (as no doubt Satan wanted Him also to do) were now treated to a quake. The ground beneath them shook -- became untenable. They could no longer be sure of what they were standing on. "The rest said, 'Wait, let us see if Elijah comes to save him.' But Jesus cried out again in a loud voice, and gave up His spirit. And behold, the veil of the sanctuary was torn in two from top to bottom. The earth quaked, rocks were split, tombs were opened" (Matthew 27).
[Note also: Michael Brown retreats: retreat: Philadelphia-New Jersey]
Donations: we need and appreciate it!
Spirit Daily on Twitter Facebook
Return to home page www.spiritdaily.com