An Hour with Jesus This booklet was designed to enhance your time spent with Jesus in the Blessed Sacrament. It includes a prayer format to use in Adoration with rosary meditations, prayers and spontaneous meditation topics. It's a terrific tool to guide your devotions. Hugely popular. CLICK HERE

---


__________________________________________________
THOUSANDS GATHER IN FRENZIED CROWDS AS MARY SAID TO APPEAR AGAIN IN CAIRO, EGYPT
Videos on YouTube indicate that unusual lights are again appearing on a Coptic Orthodox church in the Cairo metropolitan area, this time in a neighborhood known as Warraq.
There are no details as yet as to when the phenomena began, but according to blog reports crowds began forming on December 9 -- a day after the Immaculate Conception feast -- and thousands are now gathering each night, chanting, singing Arabic-style Christian songs, and loudly exclaiming as forms or flashes of light materialize.
The forms of light are vague as taken with what appear to be cell phones and presented on internet videos but like apparitions that occurred in the late 1960s and early 1970s at other Orthodox churches in Cairo seem to show a bright light in the form of Mary moving amid the domes or over an entrance near an illuminated Cross as a frenzied crowd and beeping taxi horns form an audio backdrop.
One video is available here (or in a longer version here).
It is not clear if any event precipitated the alleged phenomena in this mainly Muslim land, a country to which Mary, Joseph, and the Christ Child fled soon after the Lord's birth.
"Warraq is a small island in greater Cairo's Nile river (Gizza governorate, part of Greater Cairo)," we are informed. "It's a poor district. More than 100,000 have so far witnessed the latest apparitions."
In some cases the form seems to show Mary with a halo around her head -- similar to previous apparitions -- and in other her silhouette momentarily seems to flash a more defined profile. It is not known if natural factors such as lighting could be a causative factor.
From 1968 to 1973, highly similar forms were photographed at St. Mary's Coptic Orthodox Church in Zeitoun -- a Cairo suburb (above right; see too photos here and video here). Orthodox leaders officially approved the apparitions, which were seen by millions, including then-president Abdul Nasser and Church officials. The city checked for lights and could find no physical explanation. That was just before Egypt surrendered to Israel in the Six-Day War.
Later, she also was said to appear at St. Mark's Orthodox Church in the ancient city of Assiut, about 250 miles from Cairo (left; see video) nine years ago. There were no "messages" -- just the luminous phenomena, which also included strange clouds like incense and what appeared to be doves. Meanwhile, there were also phenomena in Assiut starting August 15, 2001, less than a month before the attacks of September 11, which involved terrorists with links to the country. However, there also have been eruptions of manifestations in between.
Notes a website dedicated to the phenomena: "Assiut is one of Egypt's Christian centers, with a 40 percent Coptic population, but also has hundreds of mosques. Hundreds, sometimes thousands of people pray, sing and dance around the church. It was initially thought that the phenomenon were some kind of trick with lasers or a special light show, so the local government ordered the electricity for the entire neighborhood to be switched off for one night, in order to uncover any deception. The light was not affected."
[resources: The Final Hour]
[see also: Our Lady appears in Assiut and Apparitions at Zeitoun]
[Note: an internet rumor that a member of our family had a prophetic dream about an event before Christmas is incorrect; that was an item from the mailbag]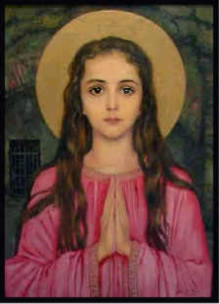 Return to home page www.spiritdaily.com