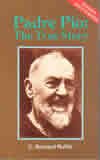 Padre Pio: The True Story By C. Bernard Ruffin, The most factual book ever written on the greatest mystic since St. Francis of Assisi, with unforgettable photographs (16 pages) and new material! Watch the remarkable miracles come to life with hard facts. Updated version. Must-have for any mystical library! The best book on him ever.
click here
---


__________________________________________________
AGED BUT LUCID MAN IN IRELAND RECOUNTS REMARKABLE MYSTICAL VISIONS ALLEGEDLY CONNECTED TO PADRE PIO
What can you say about a man who claims to have had visions of Jesus, Mary, and Saint Padre Pio?
Well, you listen, if it's Dónal Enright, of Cork City, Ireland, who once lived in San Giovanni Rotundo where Pio was, attended his Mass every day from part of 1960, through 1961, and returned for part of 1963 and often received the saint's daily blessing in the sacristy.
He was also very close to an American woman named Mary Pyle who became personal secretary and a translator for Padre Pio (she spoke five languages and died just before Saint Pio did, in 1968, as per one of Padre Pio's predictions).
Though 93, and cared for at Saint Joseph Mercy Home in Cork City, Enright remains totally lucid, with an astonishing memory and a vocabulary and knowledge that matches it.
The closeness to Padre Pio, he recounts, led to numerous mystical experiences of his own, including visions of Jesus Crucified on the altar at San Giovanni on September 23, 1976, when the future saint's death anniversary was being celebrated.
Enright, who was with a group of more than thirty, says a fellow pilgrim saw what he did: not only visions of Jesus, but also the Virgin and Padre Pio. He says he has had at least twenty apparitions of the saint since -- and if his depth of prayer is any indication (we prayed with him), such experiences had a lasting, powerful impact.
"There were thirty-two priests and a cardinal there," he told us the other day. "Right after Mass, Padre Pio appeared in his brown habit, then disappeared; then Jesus appeared in a long dark red garment. He had long black hair and dark blue eyes and a straight nose, and then He disappeared and I saw the Blessed Mother with a long, white dress, white shoes, long hair to her shoulders -- chestnut-colored -- and the most vivid blue eyes I have ever seen. On her head was a golden crown with all manner of precious jewels."
We submit this all for discernment. Enright certainly seems sincere -- and even after all these years, readily provides details (including the name of the witness who saw the same thing). The Lord, he says, appeared at one point on the Cross, "with a look of agony -- it was excruciating; no words of mine could describe what his agony looked like."
"The Cross of Christ at the elevation of the Host appeared on the altar, and then our beloved Jesus Christ appeared on the Cross. He was dressed in a loincloth and his body from His shoulders to His ankles were covered with wound after wound from the scourging at the pillar.
"On His left-hand side, the good thief appeared on his cross, and on his right hand side, the bad thief. The difference between them was this: On the left hand, light was shining on the good thief who was looking up at him in adoration, if you will. Whereas, the bad thief, there was no beam of light shining on him. He was in a dark haze. He had an aquiline nose and he appeared in age to be the older of the two thieves...then Jesus smiled at me but I'll never forget the nail that crucified him to the Cross. It was protruding about fifteen millimeters above His Feet. It wasn't round, it wasn't oval, it was oblong with a rough head on it, and the wounds in His Hands, the nails were not protruding from that. The Jesus smiled at me from the Cross. He bowed His Head and He died. And how I knew He died was the wounds - the Heart wounds - burst right open and the blood and water was flowing down from His Heart wound." Padre Pio, he asserts, appeared after in golden vestments.
During his time in San Giovanni, says Enright -- who first made contact with the Capuchins while seeking prayer for his cancer-ridden mother and moved to San Giovanni on October 4, 1960 following her death -- says that during Mass, Padre Pio would at certain points pray in Hebrew to Jesus, asking help for the sick and suffering, for peace in the world, for greater Adoration of Jesus and love for Our Lady, and for the salvation of his own soul. The saint would also ask permission to mount the Cross himself, and would mystically suffer the Crucifixion, extending his arms as if on the Cross and crossing his feet, his face reflecting agony and his hand emanating stigmatic blood. After mystically "dying," the Blessed Mother would take the saint down from the Cross, it was said.
Interestingly, Enright says that Pio expressed a prophecy about the world to Pyle, as well as discernment of a Spanish apparition taking place when Enright returned to San Giovanni in 1963. We'll get to that tomorrow.
--Michael H. Brown
6/23/14
[resources: Padre Pio: The True Story]
[Note also: Michael Brown retreats: Connecticut!]
We thank Evelyn Martin of Our Lady of Suffrage, Mother of Mercy Apostolate, for putting us in touch with Mr. Enright]

Donations: we need and appreciate it!
Spirit Daily on Twitter Facebook
Return to home page www.spiritdaily.com