Spirit Daily
__________________________________________
Venezuelan Stigmatic Makes Intriguing Visits To New York During Special Mission
By Michael H. Brown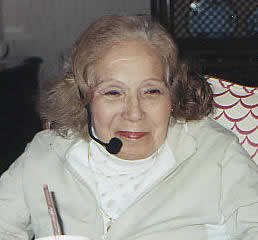 Maria Esperanza, the famous visionary associated with the Church-sanctioned apparition site of Betania, Venezuela, slipped into the United States quietly on December 21 and has been here since on what family members describe as an undefined but special "mission." The trip has included mysterious visits to New York City.
According to son-in-law and translator Carlos Marrero Bornn, on New Year's Day the Venezuelan stigmatic requested that she be taken to Manhattan, where she visited the Mother Cabrini Shrine, St. Ignatius Loyola Church on Park Avenue, and St. Patrick's Cathedral.

"She has been to Manhattan about five times," says Bornn. "Whenever we have gone there she has felt compelled to go around the Mother Cabrini shrine and pray as we circle it. We did this at each of the churches, three Hail Marys and an Our Father going around in a car. It was very unusual the way it happened on January 1," he adds, "because we were in the house of a very close friend in Connecticut. Close to 7:30 or eight p.m., suddenly she told the family, 'We've got to go, we've got to go right now.' It was cold out and quite dark and we tried to persuade her that it might not be good for her -- she was a bit congested, and we were all tired -- but she said, 'We have to go right now. We have to go. Please.' She started to push in a way that my father-in-law immediately knew was something from above."
It was a time of heightened security in New York and the rest of the nation as terrorist threats continued to beleaguer the United States. Esperanza's movements are closely heeded because the last two times she was in the U.S. were September 11, 2001 -- which she had foreseen in a vision -- and then last year at the onset of the Iraq war.
It was Esperanza who in 1992 publicly told a group of pilgrims that she had seen "two huge towers with black smoke all around them" -- an apparent prophecy about terrorism at the Trade Center -- and who in December of 2000 and then the following March publicly warned that something "big" was about happen to the U.S. involving foreign interests "on American soil." She reissued a warning that "something big," something that would shake the world, was about to occur on August 25, 2001 -- just weeks before 9/11.
Esperanza, 75, a mystic who suffers stigmata and experiences a wide array of charisms, is infirm with an illness that has defied definitive diagnosis but closely resembles advanced Parkinson's, leaving her unable to move about or speak in more than a whisper. The ailment has been referred to as "multiple system atrophy" and according to family members, it came upon Maria when she offered to mystically suffer for the Pope several years ago. Widely considered one of the most powerful mystics since Padre Pio, she believes that the next ten years will involve major events for the world, with special graces from Heaven.
Before Christmas Maria told a New Jersey priest that she had received an "order" to come to the U.S., without offering details. She asked for prayers, foreseeing "many obstacles" in the current "mission." Bornn recounts that on New Year's night, the family trekked over the George Washington Bridge straight to the Cabrini shrine at 190th Street, then headed south to Manhattan and the two august churches. They returned to Connecticut, with virtually nothing said.
In fact Esperanza, whose site of apparitions was approved by formal Church declaration in 1987 (a fact affirmed last week by a Vatican official, Archbishop John P. Foley), has told family members precious little about the precise nature of the entire visit to the U.S. "We understand that we are doing something," said Bornn. "The depth of what was happening is difficult to understand. We thought that it might have to do with terrorism because of the sense of urgency, and afterward she also felt the need to return and it was exactly the same. Something was pushing her to go."
The seer has experienced visions, locutions, and apparitions for seven decades, since she saw St. Therese the Little Flower as a young girl. On Good Fridays she has been known to suffer the stigmata while under the close observation of doctors, although in recent years the wounds have not visibly bled. Bornn said when they recounted what they were doing in New York to a priest, he brought up the way Joshua and the Israelites marched around Jericho to protect it.
"My mother-in-law didn't say it was for that reason, but we presumed that it was related to the possibility of another attack," he says. "I'm sure there is an important spiritual reason for her being here. In 1973 there was a message that said there would come a time in Maria's life in which she wouldn't use words. Words wouldn't be necessary. She would be spreading love all over."
Jan 2004