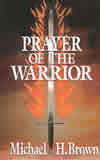 Prayer of the Warrior
by Michael Brown, a riveting account of front line action in the battle between good and evil -- with personal accounts! Parapsychology, a brush with the Mafia, and fascinating encounters with the supernatural make Michael's story something you will not want to miss and inspires all. Follow his journey into the Light of Christ's awareness! (photos)
CLICK HERE
---


__________________________________________________
EXORCISTS DISAGREE ON MAJOR TOPICS OF DISCERNMENT, FROM MYSTICS TO OCCULT NOVELS
The realm of evil is so difficult to discern. Even exorcists disagree (sometimes profoundly). We have seen the case just recently where one major exorcist, indeed a famous one, from Rome, issued warnings about occult characters like Harry Potter (as, in a way, did the Pope, before he was Pope), while another not famous but highly-educated younger exorcist has stated that there's no problem with the novels.
Ditto for other forms of mysticism. There was a loud case in Italy last year when two exorcists publicly disagreed on a major apparition (one intensely criticizing those who did not believe in it -- even saying they were sinning in their disbelief, allowing a great manifestation from Heaven to be wasted -- while the other called it the work of evil spirits).
Similar disagreement has long hovered over the writings of a mystic, Maria Valtora, whose works were once on the Vatican's Index of Forbidden Books (Liborum Prohibitorum); some say they are still a problem, while others state that they are okay to read. (After Vatican II, the "index" was abolished; but does that mean books once so listed are now acceptable, spiritually? For your own judgment!).
There are arguments over many issues and times when we all have to make sure we are not focusing on the devil too much and other times when we have to make sure we are not noticing evil far too infrequently. As a spirit of extremes, the devil prefers we don't believe in him at all (he is the "prince of darkness"), but, failing that, hopes to draw us to the opposite end of the spectrum (obsession with him). Meanwhile, are "demons" and "unclean spirits" the same thing? Or can unclean spirits also be spirits of the deceased?
This is another conundrum in the realm of deliverance. Notice evil, yes, but never fear life so much that you forget to live.
In the arena of the public (see: the media and Hollywood), where many think the devil is a myth, and where musicians, artists, and assorted other "celebrities" thus use evil motifs (such as skull tattoos or occult symbols on albums), another set of queries is brought up: when is this because they are only goofing around (being cool) and when are they under the influence of dark spirits?
Take the new, rising web browser, Firefox, which is now second only to Google's Chrome and Microsoft's Explorer and is owned by a company called Mozilla. It has been pointed out to us that when you open the Firefox browser and type "about: Mozilla" (without the quotation marks) in the address bar, a very strange screen displays and in a splash of red are the words: "Mammon slept. And the beast reborn spread over the earth and its numbers grew legion. And they proclaimed the times and sacrificed crops unto the fire, with the cunning of foxes. And they built a new world in their own image as promised by the sacred words, and spoke of the beast with their children. Mammon awoke, and lo! it was naught but as followers (the Book of Mozilla, 11:9, tenth edition)."
Amateurish? Yes. Sophomoric (as so many things in our new technological landscape are)? Yes. A bit creepy. But evil? Or a harmless prank? (From what we can garner, it's basically a play on the rise and fall of Mozilla's predecessor, the browser Netscape, which first started up on 12/10 in 1994; another of the pop-ups is from "The Book of Mozilla, 12:10.")
And so, do we want to take a little gag seriously?
The wrong atmospherics, nonetheless. At Denver airport are a bunch of symbols that seem like some a New Age conspiracy while others wander the huge airport and see them as simply part of a larger and awkward attempt at modern art; indeed, it can seem innocuous.
Now, here is another thin line: between presenting material we need to know and granting "glory" to the devil (to use a cliché). We often are at a loss at how much to use as illustrations of evil (not wanting an evil "touch" to be transmitted, which is why, in many cases, besides concern over racy ads, or caustic viewpoints, we often summarize articles and offer a link to the full story only as an option). It is a constant challenge: exposing darkness without energizing it.
Unfortunately, it grows only too well when we ignore it (it is, after all, a metaphysical fungus).
In our church?
One e-mailer informs us of a motherhouse in Nova Scotia, Canada, that has an ad saying, "Life is a Journey so it's important to set some time aside" and "Surround yourself with only people who are going to lift you higher. Oprah Winfrey. Relax…Let Go…Release…and En-Lighten UP! with Debbie Berry of Indigo Healing Connections & Sound Therapist, Nancy Hilton This weekend workshops will offer a variety of experiential processes awakening the Mind, Body and Spirit Connection; such as Shamanic Journey work, meet your Animal Totems/Guides, Sound Healing/Toning, Meditation, Connecting to the Angels, the Ancient Art of Crystal Singing and you won't want to miss En-lighten UP! Social on Saturday Night. Join us for a weekend of En-Lightenment, Fun & Laughter! When: March 2nd – 4th, 2012 Where: Bethany Centre, Antigonish, NS Cost: Single Room & Meals $275.00 Shared Room (2 Twin beds) & Meals $245.00 each 2 people Time: Friday 7PM – Sunday 3PM Pre-Registration is required and must be paid in advance by February 18th, 2012."
Okay, lighten up: but the New Age? (Debbie is a "Reiki master.")
We have reported before on the many convents and retreat houses run by nuns who are into therapeutic massage, the labyrinth, color therapy, hypnosis, Reiki, and sundry other dubious endeavors. A Vatican commission investigating religious sisters in the United States recently concluded its inquiry. "Although there are concerns in religious life that warrant support and attention, the enduring reality is one of fidelity, joy, and hope," Apostolic Visitator Mother Mary Clare Millea said in a January release announcing the submission of her findings to the Vatican's Congregation for Institutes of Consecrated Life and Societies of Apostolic Life.
Maybe those concerns are about the New Age. If not, we'd be confused (as to why not). Thus far, no such mention.
Discernment is in the eyes of the beholder. (We do submit to Rome this article or this from the archives of Spirit Daily.) Even the most well-intentioned (and the sisters in Canada are no doubt well-intentioned) can be deceived.
Would the Virgin Mary manifest an image -- as claimed this week (112/12) -- in a gay bar-restaurant? Some might say the Blessed Mother would go anywhere. Some would say that the very nature of the place -- a bar -- would negate it as an imagining (or work of deception). (The place is called -- yes -- Hamburger Mary's.)
Meanwhile, while we anticipate major future events (underscore major), doesn't the whole "2012" thing have a New Age ring to it?
A princess in Japan recently said that at the end of this year the earth will pierce into a "fifth dimension" that will cause three days of darkness. That perked up the ears of Catholics who (since the end of the 18th century, when it germinated, among French nuns) believe we will one day face three days of such dark. There was also darkness as a plague in the time of Moses. The problem: this princess gets her information by speaking with "UFOs."
Caution. Discernment.
First and foremost: let us cleanse our innermost souls.
That's where discernment must begin.
[resources: Announcing Michael Brown retreat, Green Bay and Retreat in South Florida, January 28]
[see also: Vatican receives final report on women religious, Exorcist links clergy abuse to bureaucracy, Pope opposes Potter, and Exorcist okays Potter books]

Return to home page www.spiritdaily.com