From our early archives:
The power of fasting
Fasting is powerful because when we fast we are detaching ourselves from the world. This allows us to transcend the enemy, who is the prince of the kingdoms of the world. He once offered those kingdoms to Jesus and of course Jesus in His might and girded by fasting refused. We see that even Christ saw the need to fast before He set forth to conquer His foe. In detaching from the flesh we rise above earthly spirits. This is why Scripture tells us there are certain spirits that are cast off only through fasting (Matthew 17:21). There is tremendous power in fasting. There is spiritual protection. There is healing. There is discernment. We are less deceived when we fast; the spiritual landscape clarifies. This is why the Virgin of Medjugorje has constantly urged fasting. In our time there is danger without it -- for those who can, bread and water, for those who are infirm or elderly a fast on something we particularly like whether a certain food or television, something that is significant, something we like. We see in our time the many ways evil has cause sickness because it has not been challenged through fasting, which also purifies our bodies (and even causes our bodies to consume sickly cells). "Renounce all passions and all inordinate desires," said the Virgin. "Avoid television, particularly evil programs, excessive sports, the unreasonable enjoyment of food and drink, alcohol, tobacco." With fasting, we find it easier to see the essential things of life, Father Slavko Barbaric once said. "Therefore, fasting is so important. In making us interiorly free, fasting makes it easier for us to move towards God." Many have fear because they are not fasting. Fasting removes fear. When we find ourselves in a difficult situation it is often because we have not fasted even though fasting is nearly as important as prayer. With fasting and faith anything and everything is possible (Matthew 17:20). "The best fast is on bread and water," the Virgin said in one of her most remarkable messages. "Through fasting and prayer one can stop wars, one can suspend the laws of nature."
[Resources: Lenten books, The Medjugorje Fast, and Freed and Healed Through Fasting]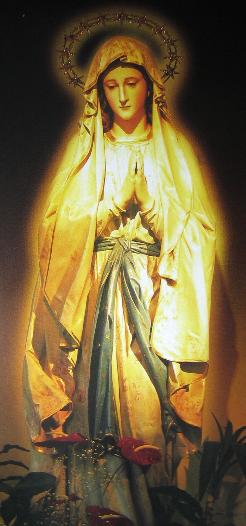 Return to home page www.spiritdaily.com