__________________________________________________
MYSTIC RECEIVED MESSAGES ABOUT CHASTISEMENT AND SURPRISING FAILURE TO FOLLOW PREVIOUS FATIMA REQUEST
There are moments when it seems like the time for a private revelation or devotion has come, and perhaps this is the case with the "Flame of Love" messages to an incredible woman named Elizabeth Kindelmann, who lived in Hungary from 1913 to 1985.
In her diary, which we have decided to make available -- and which won full approval from Cardinal Péter Erdö, the primate of Hungary and archbishop for the diocese of Eszertom-Budapest -- Jesus and Mary are quoted as making urgent pleas to stave off chastisement.
First let's start with the fact that Cardinal Erdö, in an official pronouncement on June 1, 2009, called her revelations "a sign of the life-giving Holy Spirit," ones that "bring an authentic Catholic spirituality and devotion toward the Virgin Mary that is in total conformity with the Catholic faith." He then formally recognized and "solemnly promulgated" the approbation.
"With these words, I establish in the Archdiocese of Esztergom-Budapest the 'Flame of Love of the Immaculate Heart of Mary Movement,'" he wrote. It was likewise approved as an association in San Paulo, Brazil, and for the Archdiocese of Hermosillo, Mexico (in 2008).
The very forward for her book was written by Cardinal Bernardino Escheverría Ruiz of Guayaquil, Ecuador.
These are important considerations due to the dramatic nature of the revelations -- and their current relevance, as world events continue to intensify.
As we have previously reported previously, Kindelmann, whose maiden name was Szántó, came from a large but poor family in which she was the thirteenth child -- and the only one to live beyond childhood.
Twelve siblings, all sets of twins, died before they were adults.
Her father, Joseph, was a printer who himself passed on in 1917, while her mother succumbed back in 1924, leaving young Elizabeth in the hands first of grandparents and then a series of foster-like settings. It was an often destitute life of constant struggling in menial jobs that barely paid enough for her meals. Yet, Elizabeth's faith never wavered. In fact it grew stronger by the year -- and by the struggle. Throughout her life, she was an intensely devout woman who spent countless hours in Adoration chapels.
It was while deep in prayer that first Jesus and then Mary spoke to her (we do not say "allegedly" when it has been proclaimed as such by the Church).
"My little Carmelite, so many sins are committed in this country," the Blessed Mother is quoted as telling her in 1962. "Help me. Let us save the country. I place a beam of light in your hands; it is the Flame of Love of my heart. Add your love to this Flame and pass it on to others, my little one."
And so began the devotion and missives -- including one stating that a key request made at Fatima years before had not been met.
"The greater the miracles, my little one, the fewer those who believed in me," Mary once told the Hungarian peasant, who often worked as a cleaning woman. "I asked for the First Saturdays and they never heeded my request."
This is quite a statement: that a key component of Fatima -- one of the requirements for world peace (and an end to the Communist threat) -- has never been fulfilled.
To make up for that, Kindelmann said, the Blessed Mother reportedly asked this locutionist to offer a "very special" reparation to her Divine Son on Thursdays and Fridays -- an hour for families to make reparation, beginning with a spiritual reading followed by the Rosary or other prayers in an "atmosphere of recollection and fervor," initiated by "making the Sign of the Cross five times" and those assembled offering themselves to the Eternal Father "through the wounds of my Divine Son."
The Blessed Mother also asked that the prayer sessions close with the Sign of the Cross five times and that this also be done -- the Sign of the Cross five times -- first thing in the morning and during the day. "This will bring you closer to the Eternal Father through my Divine Son, filling your hearts with graces," Mary said.
Fascinating! And there's much more. The messages and descriptions go on for 326 pages in her "spiritual diary" [see below].
This we had not heard before: Five times the Sign of the Cross. Fasting on Mondays for priests. "Quickly pass on My mother's Flame of Love so that My heavenly Father's chastising Hand departs from this country," she quoted Jesus as telling her.
Might it now pertain to staving off punishment in our own nations -- at this time when nature, and militaries, show rumblings?
It causes us to recall the Divine Mercy revelations -- which likewise requested a new devotion and likewise involved the potential chastisement of another nation (Poland), one that was put off, at least in part, due to intercession.
The Flame of Love beckons us in our own time when now other nations including the U.S. and Canada face withering attacks by the evil one.
And with those attacks, the prospect of a cleansing (chastisement).
The struggles with the devil were made plain. Relentlessly, he attacked her interior life. Interrupting her silence, he shook her soul, accusing her of false humility and of making no progress despite her austere life. This is a principle device of his, isn't it: discouragement. One "grueling" attack of soul and body "lasted for hours and kept my mind in a dark torment.
No one would believe her, he taunted.
But to no end.
Her humility brought relief from Jesus.
"My little one!" He said, "I draw you close to My Heart. You will receive tremendous reward for all the sufferings that you have accepted for My work of salvation."
Is it time for us to practice the Flame of Love -- to hoist this flag?
Might it help in nations like America that are sinking so fast; faster by the decade; even by the month?
Anything can be accomplished by sacrifice and prayer.
And humility.
Humility defeats the enemy.
Did you ever note how God reveals Himself to the simple and humble? There is always much said about miracles and apparitions. Note the humility and simplicity at Lourdes, Knock, Guadalupe, Fatima. Now, Elizabeth Kindelmann.
This is because it is the way God Himself came to this earth: with humble simplicity, which gains Heaven.
[resources: The Flame of Love of the Immaculate Heart of Mary: the Spiritual Diary and First Fridays, First Saturdays Prayer Devotion card]
[Note also: Michael Brown retreats: Connecticut! and Announcing two retreats in California]

Spirit Daily on Twitter Facebook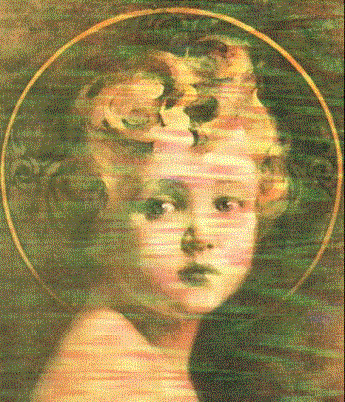 Return to home page www.spiritdaily.com