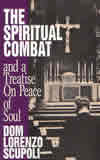 The Spiritual Combat by Dom L. Scupoli, A famous Catholic classic on the strategy for achieving spiritual perfection and salvation. Shows how to combat our passions and vices with an intelligent method in order to achieve a final victory. Also shows how to concentrate one's energies to make constant spiritual progress. One of the Church's all-time unforgettable books on the spiritual life and a favorite book of St. Francis de Sales. Highly, highly recommended!
CLICK HERE
---


__________________________________________________
FLURRY OF GHOST-HUNTER SHOWS EXPOSING PUBLIC TO A NEW LEVEL OF OCCULT DANGER
A great new avenue has opened for entry of unwanted spirits and it is through all the shows on paranormal investigations; the haunted tours or "houses" of cities; and movies that depict spiritual infestations in a way so realistic that they seem like documentaries.
Everywhere you look, these days, there is a tour of this hotel or this bed-and-breakfast or that spooked neighborhood in virtually all major cities -- and many minor cities as well.
Susceptible folks are herded in creepy black hearses or on buses or in walking tours to visit local haunts as guides explain the history of strange deaths and in some cases even try to get a "rise" out of spirits -- in taverns, in old cemeteries where spirits -- lacking prayer -- may indeed have attached themselves.
Gettysburg. Boston. Philadelphia. Savannah. St. Augustine. Key West. Chicago. Orlando. Baltimore. Hollywood. Las Vegas. There is Salem, of course. But Atchison, Kansas?
For a voodoo tour, try New Orleans.
In Europe, every castle seems like a ghostly venue (note especially the London Tower), and one "haunted" village got so fed up with visitors that it canceled Halloween this year.
Meanwhile, on television, each night seems to bring an episode of ghost-busters -- many of them young, inexperienced, and spiritually unprotected folks who lug their ghoul-tracking equipment -- tape recorders, webcams, and infrared cameras -- into old tunnels or cellars or best of all dungeons to try and get a "bump-in-the-night" on tape (in some cases yelling out challenges to spirits and on occasion encountering strange movements or sounds).
Across cable TV and the internet are readily accessible programs or clips on spirits of the "deceased." There is Ghost Hunters. There is Scariest Places on Earth. There are even shows on the Travel Network. There are programs like Ghost Whisperer. There is Ghost Adventures -- live, slides, haunted locations! There is Extreme Paranormal. When we approach such things out of fascination instead of deep prayer for the souls we approach danger.
One man, Andrew Zimmern -- a chef who has a show on bizarre foods -- went to the Kalahari in Africa and ended up participating in a ritual trance during which he invited spirits to inhabit his body (thinking it was just a little adventure, and certainly good TV).
This is naiveté at its most dangerous.
It seems like fun and games -- or in some cases, serious paranormal work -- until one realizes that most of these folks have no idea that what they are raising has the potential to attach to them or even infest them without their knowing it.
Who is the joke on -- who is "tricked" -- when that occurs? Put up a red flag. For not only can earthbound and unclean spirits cause problems to living humans (trying to relive bad habits through them), but "ghosts" can also be demons. In Scripture we see how two men who hung around the tombs were infested until Jesus chased the spirits out and into the herd of swine.
Tombs indeed! A book entitled Wicca And Witchcraft For Dummies has found its way into Catholic school libraries, we are told.
Even movies can be hazardous. One has only to see the list of misfortunes to befall those involved in films like Poltergeist and The Exorcist.
Superstition -- or sensitivity to hidden dangers?
How many have been harmed by "harmless" games like the Ouija board, or by using a pendulum?
Around us, we have noted a special rise of evil this year. Have you also? Are you shielding your family?
Wrote a viewer named Tinsley Ducote from Louisiana, "I have a lady that has a demon in her house and had a priest go over there twice. He said it might take three times. This thing comes between 11:00 p.m. and 4:00 a.m. and it starts with a growling and repeats one word in a language she has never heard of. She is 75 years old and has to get around with a walker. I have people who come into my Catholic book store who do not know where to turn. This is not my cup of tea, but I want to help people as much as I can so I will tell them where to go or what to do. I'm seeing more and more of this."
So are we.
In Montana Jan Reagor, a Catholic expert on such phenomena, cites a case in which she and her deliverance team had to cast a spirit out of a man who had an unhealthy fascination with ghosts and himself become "haunted."
"One final interesting note," says Jan. "Later on while watching his favorite paranormal program, he heard the name of a spirit that was cast out of a woman during the program. That about blew him away. It was the same name as the one that was in him!"
[resources: Prayer of the Warrior and Spiritual Warfare Prayers]
[Retreat in Phoenix: spiritual protection]
[See also: Spirits of the deceased and An anti-Catholic spirit?]
Return to home page www.spiritdaily.com