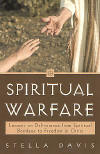 Spiritual Warfare,
by Stella Davis, lessons on deliverance from spiritual bondage from a fresh and deep new perspective, covering everything from prayer and spiritual armor to family generational healing, the power of the sacraments, waging 'war' with evil, overcoming obstacles to victory, and much more, along with riveting testimonies!
CLICK HERE
---


__________________________________________________
FOR OUR DISCERNMENT: IN UPSTATE NEW YORK IS 'PSYCHIC HIGHWAY' WITH ASTONISHING HISTORY
Numerous saints had experiences whereby they encountered unsettled souls -- spirits -- who seemed earthbound and in need of prayer (and sometimes, if purgatorial, sacrifice). Saint Padre Pio said he saw more spirits than he did actual flesh-and-blood humans. It is also said that spirits sometimes collect in particular areas -- whether unsettled souls or, unfortunately, the demonic.
Every area has its spiritual dimension. A couple of weeks ago we spoke of Niagara Falls [see article] and how it seems like a battlefield -- and magnet -- for forces good and bad. Toxic dumps and hydroelectricity compete with the great natural beauty, along with a major shrine, now falling on hard times, dedicated to Our Lady of Fatima.
Some say they have seen the Face of the Lord in the mist that rises at the base of the famous cataracts; on the dark side, others cite numerous suicides.
A battle! What afflicts your area? Have you spread blessed salt? Do you bless your own property with Holy Water?
For spirits roam. They also seem to congregate over places of past attachment or tragedy. It is not a notion that is "occult." It is one that relates to the Book of Daniel (and the struggle of an angel with the "prince of Persia," which was a demonic "stronghold" or principality). Note too the demonized men who hung out amid the tombs (Matthew 8:28) of Gadarenes. Goodness adheres to goodness (we visit the tombs of saints). Badness collect around badness.
When there is sin and especially violence, witchcraft, New Age, or anything occult, spirits may gather.
Upstate New York provides some interesting examples.
To remain on Niagara for the moment, it has been brought to our attention that a spot in the gorge downstream from the cataracts known as "Devil's Hole" was known (or perhaps we should say "rumored") to have had spiritual darkness even before it became famous for a massacre of British by the Seneca Indians. The Indians believed that a giant snake, representing evil, resided in a twenty-foot cavern there near the river. One explorer -- Francis de la Salle -- who encountered Devil's Hole and ignored the legend was soon after murdered by members of his expedition.
That was in 1687. Seven decades later was the massacre in which more than eighty British troops and family members were scalped or badly wounded and thrown by the Senecas into the gorge and a nearby tributary called Bloody Run (which, centuries later, in the 1970s, would become famous as a hotspot for a chemical disaster).
In 1901, President William McKinley passed by Devil's Hole on a trolley and was assassinated hours later.
In 1917, one of the cars on the trolley itself flew from the tracks, causing yet more fatalities.
"Additional violent deaths at this most baleful location have been attributed to suicide, murder and the occasional slip-and-fall 'accident,' and not a year goes by without another victim being claimed by Devil's Hole," says local news account. "Visitors tell of hearing strange, mournful voices and sighting mysterious lights in the vicinity, called by one visiting writer a place 'cursed by an aura of sheer bad luck.'"
Indeed, just two weeks ago (the week we ran an article on this very subject and this very area) a woman was miraculously rescued after falling into the raging rapids at Devil's Hole. (When asked by a national television network how she slipped, she said she hadn't slipped so much as felt "pulled" into the water.)
To the east, between Rochester and Syracuse (and not too far from Seneca Falls), is an historic plaque at a rest stop on the "thruway" (a major east-west highway) at Phelps that says this stretch was once known as the "psychic highway."
This, it is explained, is due to what seems like some sort of bizarre magnetism by which modern American Masonry, Mormonism, and spiritualism (a religion based on clairvoyants and mediums) erupted in -- again -- this very region. It was along this stretch -- in Palmyra, which also had been Indian territory -- that Mormon prophet Joseph Smith first had his visions and did his crystal gazing.
That was in 1823.
Two decades later -- in 1848, just six miles from Palmyra, in Hydesville -- the worldwide craze of spiritualism and mediumship (now known as "channeling") would erupt when two girls known as the Fox sisters began communicating with rapping sounds in their "haunted" house. This trend eventually engulfed even scientists and royalty in England (as well as President Abraham Lincoln) and led to the psychic phenomena and New Age of the 1900s.
So rife is the area with the religious fads which swept across this land that it was known as the "burned over" region.
Others extend it. "A snaking stretch of land in central New York State, it was a place of pristine lakes and rolling green hills, about twenty-five miles wide and three hundred miles long, extending from Albany in the east to Buffalo in the west," says one writer. "It became one of the main passages through which Americans flowed west. It is also where the feminist movement (in Seneca Falls itself, which is less than twenty miles from Hydesville) was founded."
That movement was founded in part by Susan B. Anthony, who was known to visit mediums at Lily Dale, New York -- where spiritualism relocated its "headquarters" (and which is known, as are similar locales, for violent thunderstorms).
Along the highway, at Auriesville, is a major shrine (again, in need of support) dedicated to three American martyr saints who were killed by Indians (one of whom mentioned the spirits in the area!).
Accidents seem prevalent in the area -- at least this summer. On July 17, a tire blowout apparently caused the crash of a tour bus near Rochester that killed two people and injured 35 others -- one of three major accidents, in this stretch, in a week. On July 19, "a tractor-trailer rear-ended a Canadian tour bus with 52 passengers from Ontario on board on the eastbound lanes of the thruway in Junius -- Seneca County -- at about 1:20 a.m.," reported another newspaper.
Is there residue from Indians? Does their history -- rife with rituals -- play into more modern spiritual developments? Does it go back further? Or is it all a melding of coincidence and superstition?
Notes another author, Mitch Horowitz,
:
"Stretching from Albany to Buffalo, it was the Mt. Sinai of American mysticism, giving birth to new religions such as Mormonism and Seventh-Day Adventism, and also to Spiritualism, mediumship, table-rapping, séances, and other occult sensations -- many of which mirrored, and aided, the rise of Suffragism and related progressive movements. The nation's occult culture gave women their first opportunity to openly serve as religious leaders -- in this case as spirit mediums, seers, and channelers. America's social and spiritual radicals were becoming joined, and the partnership would never fade.
"Indeed, the robust growth of occult and mystical movements in nineteenth-century America -- aided by the influence of Freemasonry and Transcendentalism -- helped transform the young nation into a laboratory for religious experiment and a launching pad for the revolutions in alternative and New Age spirituality that eventually swept the globe. In the early twentieth century, the new spiritual therapies -- from meditation to mind-body healing to motivational thinking--began revolutionizing how religion was understood in contemporary times: not only as a source of salvation but as a means of healing. In this sense, occult America had changed our world."
As he and others point out, in 1774, the woman now called Mother Ann sailed from Liverpool to New York with eight followers. As the legend goes, the ship almost capsized in a storm. But Ann, in a state of eerie calm as waves crashed over the bow, told the captain that no harm would befall them. She reported seeing "two bright angels of God" on the mast. The ship survived.

After toiling at menial labor in New York City, the pilgrims — now twelve, minus Ann's husband, it is further reported —scraped together enough resources to form a tiny colony in the knotty, marshy fields of Niskayuna, near Albany in New York's Hudson Valley in 1776. The twelve apostles, as they saw themselves, anointed the place Wisdom's Valley.
"Throughout the first decades of the nineteenth century, itinerant ministers continually traveled the newly settled region, crisscrossing its hills and valleys with news of the Holy Spirit. The circuit-riding preachers and their tent revival meetings often left the area in a torrent of religious passion. For days afterward, without the prompting of ministers or revivalists, men and women would speak in tongues and writhe in religious ecstasy. Many would report visitations from angels or spirits.

"Folklore told of the area once being home to a mysterious tribe — older than the oldest of Indian tribes, maybe even a lost tribe of Israel. These ancient beings, so the story went, had been wiped out in a confrontation with the Native Americans. Some believed their ghosts and messengers still walked, composing a world within a world amid the daily 'goings-on' of Burned-Over District life."
Or so it is said, presenting us, perhaps, another prayer need, fodder for discernment, and emphasizing the importance of protecting ourselves with sacramentals, while never getting so caught in such matters as to fear them.
[resources: Auriesville shrine and spiritual warfare books]
[Spirit Daily garden statues]
[At Auriesville St. Isaac Jogues said in 1643: "How often on the stately trees of the forests did I carve the most sacred name of Jesus, so that, seeing it, the demons might fly, who tremble when they hear it! How often, too, did I strip off the bark to form the most Holy Cross of the Lord, so that the foe might fly before it; and that by it, Thou, O Lord, my King, "might reign in the midst of thy enemies " (Ps 109:2), the enemies of thy Cross (Phil 3:18), the misbeliever and the pagan who dwell in that land, and the demons who rule so fearfully there!"]

Return to home page www.spiritdaily.com