Spirit Daily
__________________________________________
With Drama Of New Pope Will Also Come Drama Of Largest Active Apparition Site
It could not have been that much more dramatic. On the evening that John Paul II died, halfway across the world, in the United States, a well-known seer from Medjugorje in Bosnia-Hercegovina said after his nightly apparition that the Blessed Mother had had something special for him that evening.
It was April 2, hours after John Paul II had died, and appearing in the U.S., the seer, Ivan Dragicevic -- seldom known to exhibit emotions, and representing the most famous apparition site since Fatima -- appeared happier than he had ever been, at least in the eyes of some beholders.
The joy had come, he told a group in New England the next day, because while he was doing what he regularly does -- viewing the Virgin Mary as is his custom each evening at 6:40 p.m. and recommending intentions to her -- Pope John Paul II had suddenly appeared in apparition to Mary's left.
It was an extremely rare occurrence, even by the standards of the most active apparition site in the world: Hardly ever has any other spiritual form except angels (when she arrives) accompanied the Blessed Mother -- at least that is known by the general public.
Yet there was John Paul II, claimed the usually reticent seer, and the late pontiff, he said, had appeared "smiling, young and very happy. All in white with a long gold cape."
Our Lady reportedly said to Ivan: 'This is my son; he is with me.'"
We submit this all for your discernment at the same time that we report it because Ivan and the rest of the seers from Medjugorje are known to be extremely cautious, with a spare level of communication that often has been as circumspect as that associated with the equally reserved and late Sister Lucia dos Santos of Fatima.
For a quarter of a century now the Medjugorje visionaries have each kept nine to ten secrets (depending on the visionary) and unlike a cacophony of other alleged seers, have said virtually nothing of substance about them (except that they include various warnings, some sort of sign, and chastisements).
There have been no contradictions, no Hollywood-style descriptions, and in fact a tremendous, obstinate reluctance to even discuss the secrets in general terms; the seers have tirelessly repeated the themes of peace, reconciliation, prayer, fasting, and repentance -- leaving the speculation to others who have failed in every attempt to evoke meaningful detail of allegedly coming events from them.
That circumspection made the claim of seeing John Paul II, in apparition, all the more surprising, a claim that was quickly e-mailed all around the internet. John Paul -- with the Blessed Mother of Medjugorje!
Or should it have been so surprising?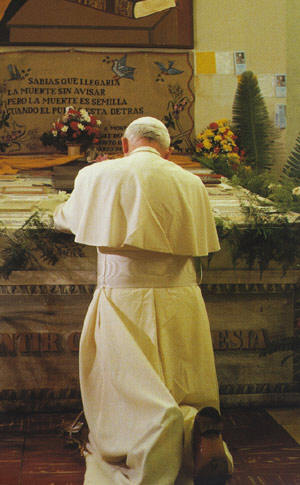 At Medjugorje, the Virgin is said to have referred to John Paul II on a number of occasions (in the early 1980s embracing a picture of him), and in the early days of the apparitions had instructed the seers to have a priest send a memorandum about the appearance to the Pope, who showed an early and immediate interest in what was transpiring.
This was a Pope who was to visit Guadalupe, Lourdes, Knock, Loreto, and Fatima, a Pope who had been to see Padre Pio in San Giovanni Rotundo, a Pope who received mystics such as Josyp Terelya and who in 1987 prevented the local bishop of Mostar, who oversees Medjugorje (and had become embittered at one of the seers), from condemning it.
Since then at least thirty million, including literally tens of thousands of priests, have visited Medjugorje and the site is busier than ever (albeit not with Americans, who have shied away since the Bosnian civil war). Any number of cardinals and bishops -- including some with whom we have personally spoken (such as Archbishop Philip Hannan of New Orleans, who gave the eulogy at JFK's funeral) -- have related the Holy Father's strong inclination toward the apparitions, at least into the early 1990s, when he began to take seriously ill with Parkinson's.
This much is clear: as the way is made for a new pope, with no way of knowing how he will feel, it is obvious how John Paul II viewed the events. In 1989, during an ad limina visit, the pontiff, who read the Medjugorje messages on a monthly basis, and often repeated themes from there (including admonitions on our youth), told Bishop Sylvester Treinen of the U.S., "Yes, it is good for pilgrims to go to Medjugorje and do penance. It is good!"
On February 24, 1990, to Bishop Murilo Krieger of Brazil, the Pope said in response to a description of a pilgrimage there, "Medjugorje is a great center of spirituality."
On April 6, 1995, during a meeting with Croatian Vice President Radic, as he was listing places he wanted to see in former Yugoslavia, the Pope said, "I want to go to Split, Maria Bistrica, and to Medjugorje." This was reported in the secular newspaper Slobodna Dalmacija on April 8, 1995 (page 3).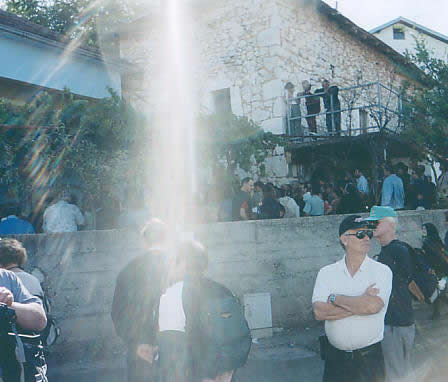 On March 15, 1997, the Pope reportedly stated the same thing to the Croatian president himself, in front of the Bishop of Mostar -- though the Holy Father never did visit Medjugorje.
On November 11, 1990, it was reported that Archbishop Angelo Kim of Korea had spoken to John Paul about the fall of Communism, telling the Holy Father that the Soviet Union had collapsed because of him. "No, not me," the Pope had reportedly replied, "but by the works of the Blessed Virgin, according to her affirmations at Fatima and Medjugorje."
In fact John Paul II referred to Medjugorje as "the fulfillment of Fatima" -- which raises questions about whether the alleged secrets from Medjugorje will now activate with passage of the last Fatima secret, which involved the Pope himself.
On June 17, 1992, the Pope told a priest closely associated with the apparitions, "Take courage. I am with you. Tell Medjugorje I am with you. Protect Medjugorje."
On August 5, 1988, Bishop Michael Pfeifer of San Angelo, Texas, published a pastoral letter in which he related that "during my ad limina visit to Rome with the bishops of Texas this past April, in a private conversation I had with our Holy Father, I asked his opinion about Medjugorje. The Pope spoke very favorably about the happenings at Medjugorje."
To Bishop Pavel Hrnilica of Rusadus the Holy Father said, "Our Lady of Medjugorje will save America" and admonished him for not stopping there on the way to Rome.
"I know that the Pope wanted the Marian Year because of the Mother of God in Medjugorje," stated Cardinal Gordon Joseph Gray of Scotland. "I know that the Pope himself accepts the apparitions of Medjugorje."
But will the next pontiff? That becomes the question of the hour -- a drama played away from the televised transpirings in Rome. And might this even be an aspect of the secrets -- which are said to include prophecies about both the Church and Medugorje itself? Is it true that, according to one seer, Medjugorje will be all but totally disbelieved before the secrets unfold?
Informed sources tell us that just two weeks before his death, the Pope had expressed a desire through intermediaries to meet again with seer Mirjana Soldo, whom he spoke to for about twenty minutes in a conversation that she has never detailed, except that the Holy Father told her, "If I were not the Pope, I would be in Medjugorje already."
He could not go because there was already enough tension; unprecedented had been the Vatican's action in taking away the power of the Mostar bishop to rule on Medjugorje, and further overt action from the Vatican may have inflamed tensions with the local ordinary, who usually has authority over an apparition in his diocese but was stripped of that power as he battled over other issues with the Franciscans who control the site of apparitions.
That was how valuable John Paul II obviously thought Medjugorje was, placing it instead in the hands of a national commission of bishops that has said (through the Cardinal of Sarajevo) that it will not make a judgment on Medjugorje until the apparitions end.
Or might that change, with a new Pope?
Among the searing questions about the next pontiff -- along with questions about how he will preach on celibacy, the liturgy, homosexuality, cloning, and other more publicized issues -- is what kind of an attitude he will have toward the mystical, and especially this huge claim of apparitions.
Cardinal Joseph Ratzinger -- who directly dealt with the Mostar bishop in saving Medjugorje and currently is the world's most influential prelate -- said during a 1991 conference in Vienna, in regard to Medjugorje, that "we are open. The commission must proceed with its work. One must continue to wait and pray."
For now, those like us who believe in the apparitions -- but will accept the judgment of the Church -- can take solace in the fact that while John Paul II never made it to Medjugorje in human form and while we can never verify if he actually appears in apparition, we can rest assured that he now has had a personal encounter with the Queen of Peace who so dearly loves him.
04/13/05
You are at
www.spiritdaily.org
[Bookstore resources: Medjugorje: What Does the Church Say and The Day Will Come]