Spirit Daily
__________________________________________
Expect Surprises From New Pope As He Sways Gentle and Tough Sides
With the new pontiff, expect the unexpected. There will be surprises. There will be surprises on both sides of the aisle. There will be surprises among those who expect a strict disciplinarian and there will be surprises among those who see him as mainly a gentle intellect.
At times Pope Benedict XVI will seem very stern, but at other times his judgments will be unexpectedly circumspect: milder than expected.
We will alternately see his soft and "tough" sides.
This is more a prophecy than an assessment. It is difficult to assess the new Pope because many of his decisions as Prefect of the Congregation for the Doctrine of the Faith were influenced by the presence of John Paul II. We are still not sure which of former Cardinal Ratzinger's actions were mainly his own or at the direction of John Paul -- who, like Benedict, was also alternately gentle and strict (although perhaps, at least in public, more on the gentle side).
For example, Pope Benedict is portrayed as a strict disciplinarian because of the actions he took with renegade theologians such as Thomas Curran (who argued for the moral right of birth control) and Leonardo Boff, a Latin American liberation theologian.
But those actions were years in coming, as was Vatican action against perhaps the most blatant renegade of all -- a former priest named Matthew Fox, who functioned for a long while as a cleric despite open New Age proclamations and even the employment on his staff of a practicing witch.
No action has yet been taken against Father Richard McBrien of Notre Dame, who openly criticizes the Vatican and appears on national television denouncing beliefs in such archaic notions of the devil.
Moreover, under Cardinal Ratzinger, the wheels sometimes appeared to grind slowly when it came to the sex-abuse crisis, which Pope Benedict felt was a concoction of the media, at least in part. He was in charge of Vatican handling of that issue and it was the Vatican that softened actions proposed by the U.S. bishops against priests (actions rejected as too harsh). When an ABC reporter pressed Pope Benedict, when he was a cardinal, on allegations against Father Marcial Marciel -- founder of the Legionaries of Christ, and one of the highest-ranking clerics ever charged with abuse -- Benedict admonished the persistent reporter by slapping his hand.
"In the United States, there is constant news on this topic, but less than 1 percent of priests are guilty of acts of this type. The constant presence of these news items does not correspond to the objectivity of the information nor to the statistical objectivity of the facts," he said.
At the same time, during his Good Friday meditation he severely castigated those priests whose garments were "filthy" due to scandal, and it was just last December that Pope Benedict, as Cardinal Ratzinger, reopened the investigation of Father Marciel.
How the Vatican handles this particular delicate case will be extremely telling in the way it will approach the abuse crisis in general.
Will there be a surprise there? Will there be surprises in store for seminaries? Will Pope Benedict -- who may not possess Pope John Paul's mystical charisma -- be more of a "hands-on" administrator?
Or will he surprise us with his own brand of mysticism?
Many may be interested to know that now-Pope Benedict had a hand in several extremely noteworthy claims of the supernatural, including the third secret of Fatima -- which he apparently had read by the mid-1980s (since he spoke about it in a book, The Ratzinger Report, that was issued in 1985).
Asked why it wasn't being released, Pope Benedict had responded: "If this decision has not yet been made, it is not because the popes want to hide something terrible," he said, but to avoid sensationalism. He added that the third secret "would only confirm the part of the message of Fatima already known. A stern warning has been launched from that place that is directed against the prevailing frivolity, a summons to the seriousness of life, of history, to the perils that threaten humanity. It is that which Jesus Himself recalls very frequently: 'Unless you repent you will all perish.' (Luke 13:3)."
Pope Benedict went on to say that the third secret (since released, with a commentary by then-Cardinal Ratzinger) added nothing to what Christians must know from Revelation and also from "Marian apparitions approved by the Church in their known contents, which only reconfirmed the urgency of penance, conversion, forgiveness, fasting."
Showing an openness to such phenomena, Cardinal Ratzinger, before editing his comments, had not included the words "approved by the Church," but rather referred to Marian apparitions in general.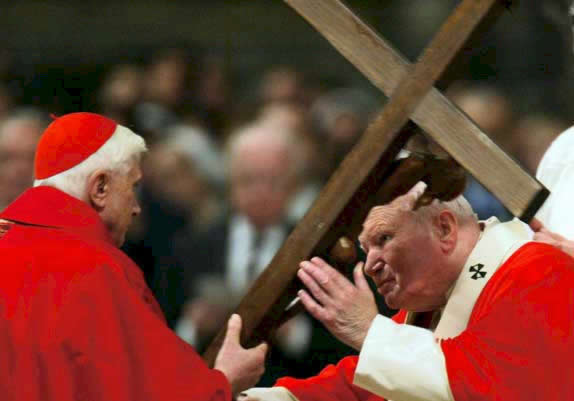 It was Pope Benedict who stepped in to save the apparition site of Medjugorje in Bosnia-Hercegovina, although it is not know if such was at his or John Paul II's initiative. In other cases, however, he has allowed outright rejection of apparitions or claims of locution.
Meanwhile, as prefect of the Sacred Congregation he had allowed approval of an apparition in Rwanda and was also said to have referred to alleged happenings in Akita, Japan -- where a cloistered nun claimed to hear messages (despite her own deafness) and where a statue of the Blessed Mother wept on at least 101 occasions.
According to former ambassador-to-the-Vatican Howard Dee of the Philippines, Cardinal Ratzinger endorsed a pastoral letter sent by the Bishop overseeing Akita (and verifying at least aspects of the phenomena) in 1988.
"I surmised that Cardinal Ratzinger's approval of the pastoral letter must be because he recognized the Fatima third secret in the Akita message, a proof of its authenticity," wrote Ambassador Dee. "To confirm this assumption, during my farewell visit to Cardinal Ratzinger at the end of my Vatican stint as Philippine ambassador, I asked the good cardinal about the correlation of the Fatima and Akita messages. I knew it was a delicate question, as his answer might reveal indirectly the content of the third secret. To my happy surprise, he confirmed that these two messages were essentially the same."
There is that word again: "surprise." Indeed, the Akita message warned that if mankind persisted in sin, fire would fall from the sky, and when the third secret was revealed, it showed an angel ready to set the earth afire.
However, the death of Pope John Paul II and Benedict's very ascension to the Throne of Peter by their very facts bring into question other alleged prophecies, including ones that claimed a Pope would die in exile.
4/22/05
You are at www.spiritdaily.org