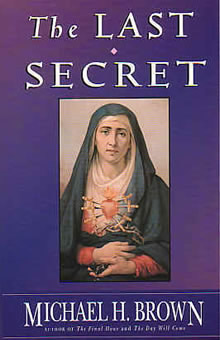 The Last Secret by Michael Brown A look at the apparitions of the Virgin Mary throughout Church history, from the year 40 A.D. to present! You'll be astonished at the number. This is the first comprehensive history of Mary's entire history of apparitions -- how they helped form history, how Mary intervened to institute the Church, to heal, and to save her people from war and plague -- to the current day. Originally released in 1997 and now newly republished, this book is historical but will amaze you with the way the Blessed Mother helped build up what is now the oldest institution on earth! Heavy on history, it's a work meant to be a reference guide as well as a vehicle for long-term mediation! CLICK HERE
---


__________________________________________________
For our discernment:
DEPARTURE OF POPE CAUSES THE EYE TO GLANCE BACK AT ALLEGED PROPHECIES FROM SAINTS, MYSTICS, AND EVEN POPES
While the abrupt departure of Benedict XVI and the implications of his abdication are unsettling to many, even disturbing, and while there is little question that the Church remains in crisis over homosexuality (persecuted by it from within and without, necessitating perhaps a "reform council"), one must take the Pope Emeritus at his word: that he simply had no more strength to carry forth his pontificate.
Yet, it brings out the prophetic.
Did he "flee," as so many alleged prophecies -- from classical mystics and saints and even popes -- have had a pontiff fleeing from Rome?
One cannot describe his retirement as that, not at this point, not with information at hand, although there are the haunting words that Benedict himself spoke at the very beginning of his Petrine Ministry: "Pray for me, that I may not flee for fear of the wolves."
More recently -- on Ash Wednesday, just days after announcing his abdication -- he spoke of "individualism and rivalry" and divisions which he said "disfigured" the face of the Church.
Thus there remains that unsettled air and still the reverberation of thunder; many are those whose eyes revert to prophecy, being rich in history when it comes to matters of the Church.
Noted one Marian film-maker from England, John Bird: "On learning of the most distressing and disturbing news of Pope Benedict's resignation, I experienced a very deeply felt sense of foreboding for the immediate future of the Church. When the Arm and the Justice of God strikes the leader of His people, then the whole Church in effect will become subject to the final ordeal which must precede the forthcoming Eucharistic Reign of Jesus: 'Awake sword, against my Shepherd, against the one who is close to me, strike the Shepherd, scatter the sheep (Zechariah 13:7).
Others might focus on the positive possibilities of a new, dynamic, Marian Pontiff in this world of -- indeed -- apocalyptic-like turmoil. It is exciting to contemplate the conclave (and to pray for the decision).
Did the Pope hear from God, from the Blessed Mother? He alluded to listening to such a Voice. And it certainly has occurred with previous pontiffs. Pius XII is said to have had a vision of Jesus beside his bed at a critical time in his pontificate, when he was feared dying (he went on for several more years). Some claim the Blessed Mother sent a seer to advise Paul VI to remain on the throne.
What about prophecies that had only three popes after John XXIII? Are these to be discarded? Do we await the "Great Pope" of other predictions (or have we already seen one)?
One must never despise prophecy, although always treat it carefully.
Let us move beyond Malachy:
In 1340, an alleged seer named John of the Cleft Rock (1340) said, "Toward the end of the world the Pope with the cardinals will have to flee Rome under trying circumstances to a place where he will be unknown. He will die a cruel death in this exile. The sufferings of the Church will be much greater than at any previous time in history."
There was Pope Pius IX (died 1878), who said, "The Church will suffer exceedingly. Her servants and her chieftain will be mocked, scourged, and martyred." (Did that pertain to the Communist oppression?)
There was another Pius (X, who died in 1915): "I saw one of my successors by name fleeing over the corpses of his brethren. He will flee to a place for a short respite where he is unknown, but he himself will die a cruel death."
There was Jacinta of Fatima (died 1920), who "saw the Holy Father in a very big house. He was kneeling before a table holding his face in his hands and he was weeping. Outside there were many people; some were throwing stones, others were cursing at him and saying many ugly words to him."
There was Sister Marie Chambon (died 1907): "The triumph of the Church will be hastened by devotion to the five wounds and the Precious Blood of Jesus Christ."
There was Venerable Mary of Agreda (1665): "In the last times the Lord will especially spread the renown of His mother: Mary began salvation, and by her intercession it will be concluded. Before the Second Coming of Christ, Mary must, more than ever, shine in mercy, might, and grace in order to bring unbelievers into the Catholic faith. The powers of Mary in the last times over the demons will be very conspicuous."
There was Werdin d'Otrante (13th century) who said that a great pontiff would precede the anti-christ. Or, getting back to John of the Cleft Rock: "God will raise up a holy Pope over whom the angels will rejoice. Enlightened by God, this man will reconstruct almost the entire world through his holiness and lead all to the true faith."
There was Saint Bridget of Sweden (1873): "When the feast of Saint Mark shall fall on Easter, the feast of Saint Anthony on Pentecost, and that of Saint John on Corpus Christi, the whole world shall cry, 'Woe.'"
There was Elizabeth Canori-Mora (1825): "God will employ the powers of hell for the extermination of these impious and heretical persons who desire to overthrow the Church and destroy its very foundation. These presumptuous men in their mad impiety believe that they can overthrow God from His Throne; but the Lord will despise these artifices, and through an effect on His Mighty Hand He will punish these impious blasphemers by giving permission to the infernal spirits to come out of hell. Innumerable legions of demons shall overrun the earth, and shall execute the order of Divine Justice by causing terrible calamities. After this frightful punishment I saw the Heavens opening and Saint Peter coming down again upon the earth; he was vested in pontifical robes, and surrounded by a great number of angels, who were chanting hymns in his honor, and they proclaimed him as sovereign of the earth." For our discernment. (These one can find in a little book called Prophecy For Today, currently out of print; soon to be reprinted).
And so it goes.
There have certainly been greater crises. There have been popes who were arrested, even jailed, popes who indeed did have to flee, there have been popes who were immersed in sexual scandal, a time when orgies reportedly occurred in the Lateran Palace, when Church funds were spent in bordellos, when pontiffs waged war or named emperors. At one point during the Middle Ages there was a seventy-year absence of the pontificate from Rome, followed by the disaster of the forty-year Great Schism, when two and eventually three popes fought for control. There were times when one could pay money to become a cardinal and when rectories were the place of concubinage. There were the problems under Basel and Constance -- leading to reform councils, as such might well now aid the Church, if under strict papal control.
Tumultuous times. Disturbing ones. But also energizing ones.
A call to arms. A call to sanctity, to prayer; a call to us during Lent, the exact right time for it.
[resources: Lenten books; Medjugorje pilgrimage, Michael Brown: purification, future, self-illumination]
Spirit Daily on Twitter Facebook
Return to home page www.spiritdaily.com
click here to go back to main book page or For second section of books click here or Spirit Daily Gift Store here
click here for: healing books, here for afterlife, here for spiritual warfare, here for Father DeGrandis
Michael Brown's books autographed [click here]; Book specials here