The Imitation of Mary, by Abbe Alexander de Rouville. No sooner had the incomparable Imitation of Christ appeared than the faithful began to spontaneously wish for an imitation of Our Lady, and finally, in 1768, a monk pulled together a little powerhouse of meditation on the different mysteries and circumstances of her life, from the Immaculate Conception to her Assumption into Heaven! Click here

---


__________________________________________________
MORE ON RUMBLINGS AND ST. THERESE AND WHETHER SHE BELIEVED BOOK ON END TIMES
On the apparition beat, which has been unusually busy this year, the focus has been in Africa (where ironically the Pope now visits) but there is also much activity elsewhere.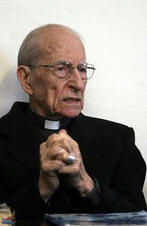 One noteworthy event last week was an interview in which an esteemed member of the hierarchy, Cardinal Ersilio Tonini (retired archbishop of Ravenna-Cervia in Italy), stated his opinion that the famous and often controversial apparition site of Medjugorje is "a blessed place and a grace of God."
That was the most positive assessment by a cardinal in years.
"Who goes to Medjugorje returns transformed, changed," said Cardinal Tonini in an interview with a journalist named Bruno Volpe. "[The pilgrim] reflects himself in that source of grace that is Christ. Christ is at the same time the tap and the source. If in Medjugorje, as it is obvious by now, many conversions happen, it surely means that there is the hand of God. I believe that we should look at Medjugorje with serenity and trust, appreciating all the good and holy things that happen in that place."
That's strong language and it bore further significance because a year ago, a lower ranking but likewise prominent Italian clergyman, a bishop emeritus, Andrea Gemma, was quoted as declaring that Medjugorje is a "satanic deceit."
"I cannot believe this," declared the cardinal about such reports. "In any case, if he has really said this, I think that it is an exaggerated phrase, absolutely outside the topic. Only unbelievers do not believe in Our Lady and in Medjugorje. For the rest, nobody is forcing us to believe, but let us at least respect it."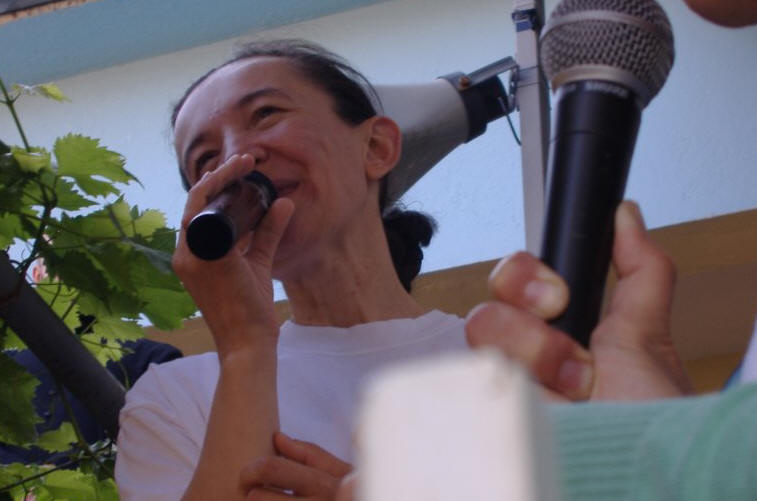 If it is confusing how cardinals and bishops could express various opinions on Medjugorje, it is because the official Church has not yet ruled on it -- allowing them to express personal opinions. The matter is currently in the hands of a Vatican commission. In the case of Medjugorje -- which has drawn more pilgrims than any site since Fatima -- the local bishop, who usually rules on such matters, has been removed from authority over the site since the late 1980s but can exert control over certain aspects as far as use of church property. He recently prohibited apparitions from certain Church-connected public places, especially in the case of a seer named Mirjana Soldo, who was having her monthly apparitions at a charitable organization, Cenacolo, where addicts and others are rehabilitated; the order reportedly extends to the others seers as well.
The same occurred years ago when seers were disallowed from apparitions in the rectory or church itself by the prelate, despite support for the apparitions by local the local priests. A well-known Franciscan connected with Medjugorje, meanwhile, Father Jozo Zovko, suddenly has taken a "sabbatical" from public appearances. Will there be more restrictions? We'll watch and see how matters develop. The Vatican says pilgrims are fully allowed to go to Medjugorje but not as official parish trips.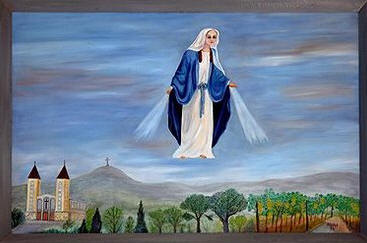 Fascinating it is that seven years before the reputed apparitions, in 1974, a local artist depicted the Blessed Mother [left] over the village.
In these rollicking times, how will the Church rule? And will "secret" prophecies unfold?
The main issue out there on the "beat" has been a book called The End of the Present World by Father Charles Arminjon that was published more than a hundred years ago but has surfaced in English for the first time -- after decades of obscurity. The stir has been caused because the book was strongly endorsed by none other than St. Thérèse the Little Flower, who mentions the effect the book had on her in the famous autobiography, Story of a Soul (Carmelite Studies version). So popular is the Arminjon book that it is now headed for a third printing (which is why there have been delays).
Is there any special meaning in the surfacing of this book -- as well as another on dramatic, approved apparitions in Africa -- at this time?
Whatever St. Thérèse thought of all Father Arminjon's speculation, in the book, on the end times and anti-christ, it has been pointed out to us, by readers, that the great saint -- a doctor of the Church -- made at least one reference to such prophecy in her own book when she wrote (in a prayer to Jesus):
"Martyrdom was the dream of my youth and this dream has grown with me with Carmel's cloisters. Like You, my Adorable Spouse, I would be scourged and crucified. I would die flayed like St. Bartholomew. I would be plunged into boiling oil like St. John; I would undergo all the tortures inflicted upon the martyrs. With St. Agnes and St. Cecelia, I would present my neck to the sword, and like Joan of Arc, my dear sister, I would whisper at the stake Your Name, O JESUS.
"When thinking of the torments which will be the lot of Christians at the time of Anti-Christ [our italics], I feel my heart leap with joy and I would that these torments be reserved for me."
So there it is -- the saint discussing the end times.
That's on page 193 of her book and it references Father Arminjon in a footnote (along with previous praise for his hidden tome) -- a fact that has made the book a hot seller.
It is not the only potential link to current predictions.
There are those who believe that there are prophetic signs in nature and even in subterranean "rumblings." These are seen not in obscure books but local newspapers. Many places are reporting strange noises from the earth, and whether it is simply an artifact of internet reporting, or a real trend, there are those who point out a possible (note the word "possible") connection to Fatima.
As a viewer from Alaska noted: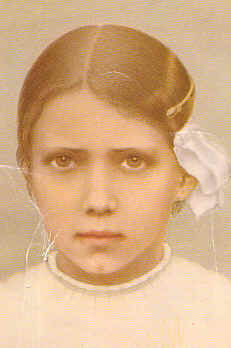 "I see with interest your recent article about the unexplained 'booms' that were occurring in various parts of the country, most recently in the Mississippi area.
"Shortly after reading the article, I was reading a book The Youngest Prophet, authored by Christopher Rengers, on the life of Jacinta Marto.
"On page 41, there is a description of the three Fatima visionaries being kidnapped by the authorities so that they could not be present for the August 13 apparition of Mary. As one eyewitness observed, the crowds of people had arrived not knowing the children had been prevented from coming. Lucia's older sister Maria was quoted as saying, 'It may seem strange that at this time, when the children did not arrive, I and many others experienced certain signs and strong impressions of the supernatural, and this is the time when our faith was really born.
"'There seemed to be a cloud over the little tree at noon; also noises like explosions, and a trembling like an earthquake. At least we could not now blame the children for any of these things. We were all very afraid and impressed...'
"Is it possible that the "booms" being reported these days in various parts of the country are of a supernatural origin? I realize that it might be a stretch to say they are supernatural events but in the absence of any natural explanation maybe the supernatural should be considered."
Rumblings. The reports come from all over.
"Just a curious observation," wrote Pam Carson, Clarks Green, Pennsylvania. "An article mentions these mysterious 'booms' occur mainly on Wednesday and Fridays -- same days as the Blessed Virgin Mary has requested all to fast."
Ah, Lent,
Ah, prophecy.
The veil is thin and (perhaps) getting thinner.
[resources: The End of the Present World, Our Lady of Kibeho, Medjugorje and the Church, and The Final Hour]
[also: Detroit area retreat - Michael Brown]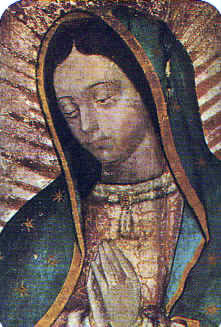 Return to home page www.spiritdaily.com