__________________________________________________
RETREAT SET FOR NEW ORLEANS
We're delighted and excited to be returning for a retreat in the great Marian state of Louisiana, this time New Orleans, Saturday, from 10 a.m. to 4 p.m. at the Crowne Plaza, New Orleans Airport (2829 Williams Blvd., Kenner). [See below for directions].
Author Michael H. Brown will give a retreat, which will focus on our current time, the "prophetic pulse," family healing, spiritual warfare (protection), and the afterlife -- eternity (Heaven, hell, and purgatory). There is so much new to talk about! And tackle this we will.
Not in memory have events quickened as they are quickening.
Said the Blessed Mother in her most recent message: "Pray for my intentions, because Satan wants to destroy my plan which I have here and to steal your peace."
Can anyone doubt we are now in the thick of spiritual warfare?
And it will get more intense.
But so will the Grace!
Is anywhere more familiar with the conflict with evil -- and the way the Blessed Mother intervenes -- than Louisiana?
What does the future entail?
Times are intensifying -- not just in society, but in all our homes! And will become more so. So is it that we'll be discussing too the supernatural reality around us (and our families) in a personal way.
There are spiritual challenges. There are societal events. There are quakes and whirlwinds and storms and disease and droughts and volcanic indicators that have a component that is spiritual as well as physical.
If we're cleansed, and prepared -- as we will especially discuss -- there is nothing whatsoever to fear (here or in the hereafter). We can solve deep-seated family issues! We can find peace -- and a buffer -- no matter what swirls around us.
We can find protection and healing.
Are there hidden things in our homes that attract dark spirits -- in our lives? Have things come down the generations? How do "unclean" forces operate? What's in store for Louisiana and the South (and the world, for that matter)? What is the best preparation for Heaven? What about what the Pope has saying? The Church? What about most recent "predictions" about the future? Most relevantly: what about the afterlife? (Michael will be discussing a new book called What We Take To Heaven.)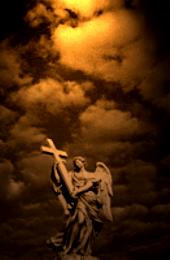 We will have a blessing of water and salt if possible. Admission can be purchased on-line with button below; or by calling 386-446-8139 between 9 a.m. and 5 p.m. EST weekdays. Please note that there are no tickets issued; attendees will be on a list at door. If there is room, there will be door admittance. The hotel will offer a deli buffet for lunch. Priests and nuns are free! Please let your friends in nearby cities know! Those driving from more than an hour away can call for $5 discount. Books and videos will be available.

retreat, $30 (hit "add to cart" and then, when done, "complete order" to finalize; include name, phone, and e-mail; pay no attention to shipping charge; automatic merchant handling/shipping fee of $2 will be credited back to your account; call 386-446-8139 or email mbrown33@aol.com if any questions).
[Special deliverance prayers will be recited. Books and videos will be available. We pray for you and ask for your prayers! If a priest is available, there will be a Mass and blessings]

Return to home page www.spiritdaily.com