__________________________________________________
NEVADA RETREAT, NOVEMBER 8
A searching, prayerful, and intense all-day retreat with author Michael H. Brown has been scheduled for Saturday, November 8, 2008, from 9 a.m. to 5 p.m. at the Orleans Hotel, in Las Vegas, Nevada. The retreat was scheduled due to requests in that region and will focus on signs of the times, the circumstance in Nevada (as well as surrounding areas), and quickening events around us -- not just in the world, but in our lives how to deal with such challenges.
Talks, discussions, and question-and-answer periods will focus on what is occurring in the world; spiritual warfare and protection within our homes; and how we grow close to God and tap into His power (and the miraculous): how we should perceive and deal with the turbulent times we live in. And how we can be healed by the special graces at this moment in time.
The retreat will include the talks and question-and-answer periods. A luncheon will also be offered as an option. Mass will be at nine.
We will focus on regional issues, signs of the times, current events, prophecy, the afterlife, and general spiritual development. But the key will be the inner search: are we seeing with the eyes of Heaven? Nothing is more important than where we stand with God.
Water, salt, and sacramentals will be blessed -- at this time (as we will discuss) when we and our households and families need spiritual protection.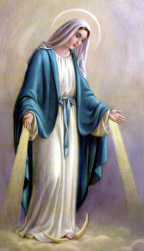 There will also be a discussion of heightened demonic attacks on families, how to ward such off, the role of Confession and the Eucharist, and extensive review of Heaven, hell, and purgatory. So too will we discuss alleged apparitions and prophecy. We will discuss "secrets," current events, and signs of the times.
There will also be a major discussion on prophecy -- particularly as has to do with Florida and the U.S. The discussion will include what to realistically expect, while other parts of the day will focus on personal spiritual healing, deliverance, and personal spiritual development with a focus on the afterlife: what it is, how it is, and how we should strive to get to its highest reaches. Mr. Brown will draw from a work in progress on the afterlife called The Other Side.
The joys of Heaven are difficult to describe, says the author (who has been researching near-death experiences), but in the end is the message that: God is in full control; we are in a place of testing.
Do we know who we really are? Are we preparing for the glory of Heaven?
The price is $35 per person. Priests, nuns, and deacons are free of charge. Admission can be purchased on-line with button below; or by calling 386-446-8139 between 9 a.m. and 5 p.m. weekdays or via mail by check to: Spirit Daily, 11 Walter Place, Palm Coast, Florida, 32164. Please note that there are no tickets issued; confirmations are e-mailed; attendees are on list at door. There will be door admittance.

retreat, $40

retreat and sit down luncheon, $65
(hit "add to cart" and then, when done, "complete order" to finalize; include name, phone, and e-mail; hit gold "shipping" button to complete order; handling/shipping fee of $1 (charged by merchant bank for online ordering); call 386-446-8139 if any questions). No refunds can be issued after November 2, except in cases of illness or emergency.
The hotel is located at 4500 W Tropicana Ave, Las Vegas; phone 702) 365-7111. retreatants should request special room rate for Michael Brown/Spirit Daily retreat
Special deliverance prayers will be recited. We pray for you and ask for your prayers!
Return to home page www.spiritdaily.com