Spirit Daily
Outrage As Witches Ritual Scheduled For Knights Of Columbus Hall In Salem
By Michael H. Brown
Outrage of the week: On Saturday November 1 at 8:30 p.m., witches in Salem, Massachusetts will be holding an event called "Death and Rebirth: Ritual Transformation."
"Draw on the magick of Salem, the power of Witchcraft, the strength in numbers, and take action to create the life you have dreamed of having," says their website. "You will undergo a transformative 'death' in ritual where you will surrender that which you choose to eliminate for your greater good, followed by an awakening of your new self and a celebration of your new life.
We expect that in Salem, which has hundreds of witches and each year has a weeklong "Festival of the Dead." What we didn't expect is that this year it will be held at a Knights of Columbus Hall -- "conveniently located downtown at 94 Washington Square, the Hall overlooks historic Salem Common. The evening's events begin promptly at 8:30pm. Please plan to arrive 20 minutes early due to traffic and parking considerations."
and another outrage
Halloween Enters The Liturgy
By Michael H. Brown
At Christ the King Church in Pleasant Hill, California, parishioners will be celebrating Halloween during Mass -- a curious intermingling, when one considers that Halloween is better known as the high feast day for occultists and witches, with all its ghoulish splendor. Perhaps this is an example of why the Vatican is about to pull in the reins of liturgical innovation. At any rate, the parish website makes this announcement: "Next weekend we celebrate Halloween with special costumed liturgies at 5:00 p.m. Saturday and 9:15 a.m. Sunday. Young and old are invited to wear their favorite Halloween costumes." Hopefully the favorite costumes are costumes of the saints.
You are at spiritdaily.org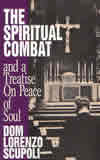 The Spiritual Combat by Dom L. Scupoli A famous Catholic classic on the strategy for achieving spiritual perfection and salvation. Shows how to combat our passions and vices with an intelligent method in order to achieve a final victory. Also shows how to concentrate one's energies to make constant spiritual progress. One of the Church's all-time unforgettable books on the spiritual life and a favorite book of St. Francis de Sales. Highly, highly recommended! CLICK HERE