See How She Loves Us
,
Fifty Approved Apparitions of the Virgin Mary, new, by Joan Carroll Cruz, ranging across twenty-two countries and many centuries, meticulous fascinating details you have never heard and apparitions you may never before have encountered, showing her love and caring for man and the Church -- with Our Lady's powerful messages and intercessions! CLICK HERE
---


__________________________________________________
SISTER WHO LIVED WITH LUCIA OF FATIMA SAYS VISIONARY EMPHATICALLY STATED THAT THERE WAS NO OTHER 'SECRET'
For many years -- nearly from the onset of its release twelve years ago this week (on June 26, 2000) -- there has been an undercurrent of skepticism about whether what the Vatican publicized as the "third secret" was the entire missive delivered by Sister Lucia dos Santos of Fatima, Portugal, who had received it, with cousin Jacinta, during a visitation by Mary on July 13, 1917.
It's a complex argument. There are those who expected much more: description of an apocalypse. Rise of the anti-christ. Others argue that there are two secrets -- one the image of an angel about to torch the world, but halted by Mary that was revealed by the Vatican, the second text written by Lucia dos Santos, the sole surviving visionary at the time of the release, to accompany it -- saying much more about the future, including the Church itself. Others feel that the Fatima secrets have materialized and now give way to modern ones such as those from Medjugorje, which hint at huge coming events.
Admittedly, there remain questions, or at least perplexities, about the secret as presented in Rome. Some well-known U.S. Catholics have expressed skepticism. Some have gone so far as to assert that the Vatican pressured Lucia, there inside a cloister called Carmelo de Coimbra, into withholding the written message, invoking obedience. The theory: they were trying to forestall some embarrassment to the Church, or prevent fear among the public. But according to nuns who lived with the seer, such was not the case -- and claims to this effect caused her consternation.
"It upset her that there was so much speculation about the Secret," writes Sister Maria Celina de Jesús Crucificado in a fascinating little booklet, Our Memories of Sister Lucia. "Before it was revealed, she used to say rather sadly: 'If they would only live the most important part, which has already been revealed! They are only interested in what has yet to be said, instead of fulfilling what has already been asked for: prayer and penance!'
"After the Secret had been revealed, people began to express doubts as to the authenticity of the text. One day I said to her: 'Sister Lucia, people are saying that there is yet another secret!' "She replied: 'If they know that there is another secret, let them reveal it! I know of no other! Some people are never satisfied. Take no notice!'"
"The beatification of the little shepherds (Jacinta and Francisco) marked an important phase in the life of Sister Lucia," says the booklet. "It was truly a feast for her heart. After that, she gradually became more frail, more dependent, though she continued to do everything she could, avoiding 'fuss.' She said farewell to the Pope and Fatima, though it seems that both she and the Pope nurtured a dream of returning there! It was moving, when we mentioned Fatima when she was on her deathbed, to see how she reacted. This one word reminded her of so many things."
We report. You discern.
[resources: Our Memories of Sister Lucia]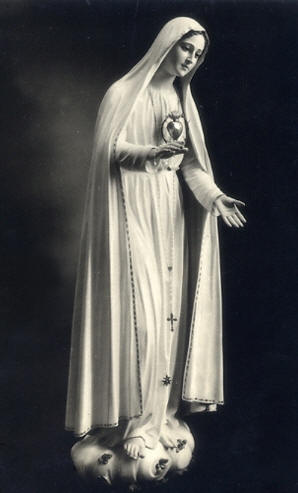 Return to home page www.spiritdaily.com