__________________________________________________
WHEN IT COMES TO MUSIC AND THE SIXTIES, A BIBLE PASSAGE MAY HAVE SAID IT ALL
"In America, the generation of young people in the 1960s was largely a drug culture, and that lifestyle was basically one of rebellion," wrote one of the foremost deliverance experts. "They were rebels against parents, rebels against the government, rebels against institutions, rebels against the Church, and so on. And almost without exception they ended up in the occult."
Think of it: John Lennon of the Beatles participated in seances (at the Dakota). Paul McCartney said some of their songs channeled through them as if from another realm. The guitarist for Led Zeppelin bought a home on Loch Ness (one that was reputedly haunted and had been owned by a notorious occultist). The Rolling Stones released an album called Their Satanic Majesties Request (with a song called "Sympathy for the Devil"). The Beach Boys also felt they were "channels" ("We were doing witchcraft, trying to make witchcraft music," Brian Wilson was quoted as saying). The lead singer for Credence Clearwater Revival visited a famous intersection in Mississippi where a legendary rock guitarist had allegedly sold his soul to the devil (for musical talent). So did others. Elvis Presley had an world-class collection of occult books.
The list goes on -- even before the onset of heavy-metal music (and folks such as Ozzie Osborne). It is now way around the bend; rebellion, drugs, and the occult have been institutionalized.
It is an interesting meditation. What music did we like, do we still like? Was it uplifting? What effect did it have on us? Where have we been "rebellious"?
It's all relevant, as the expert, Derek Prince, pointed out, due to the Scripture, 1 Samuel 15:23: "For rebellion is as the sin of witchcraft."
What a rebellion the Sixties were! What fruit it has borne! What a rebellion!
[Resources: Dereck Prince's They Shall Expel Demons]
[See also: Retreats, Louisiana and Kansas City]

Donations: we need and appreciate it!
Spirit Daily on Twitter Facebook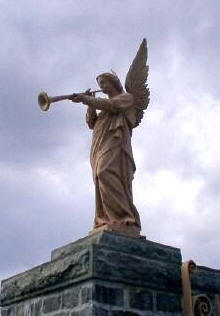 Return to home page www.spiritdaily.com