Mystical Rosary with Mystical Mass Prayer, by a truly anointed priest, Fr. Luke Zimmer, who penned this little pamphlet of prayer under what he felt was Divine guidance -- and what those who use it also feel is an unusual gift when prayed with the heart! In a unique guide, Fr. Zimmer takes a portion of the Mystical Mass Prayer and uses it as a meditation before each decade -- in what is a greatly enhanced, potent Rosary! CLICK HERE

---


__________________________________________________
SECRETS OF PURGATORY: WHY SOULS THERE ARE CALLED BOTH 'POOR' AND 'HOLY
By Susan Tassone
In this "valley of tears" (and sighs), sufferings are especially meritorious and accepted by God in atonement for sin. It is much better to cancel our debt now, since we can do it at far less a cost to ourselves and at the same time increase our eternal reward than after death.
The poor suffering souls in purgatory, however, continue without any alleviation or interruption.
We call the souls "poor" because they are expiating. They are purging. They are "making recompense." How painful that can be! They realize as they never did on earth the blessedness of possessing God, of loving Him totally, of always seeking Him, which causes them to endure the bitterness of "hope deferred that makes the heart sick" (Proverbs 13:12). They lost the sight of God.
It is thus well for us if we learn to love God now -- for love will teach us to do penance for our offenses against Him, and then we shall not have to lament: "Woe is me that my sojourning is prolonged."
The souls are called "poor" precisely because they are helpless to shorten their banishment and ease their pain.
Their time of merit is up.
They are no longer capable of performing new meritorious acts but only of purifying those imperfections which impede entrance into glory. They depend entirely on our charity. Are we listening?
The souls are also "poor" because they are often forgotten. Out of sight, out of mind. Even their dearest friends think of them only occasionally; and some, not at all!
The souls are called "holy," at the same time as they are called poor, because they can no longer sin. They are confirmed in grace. What a joy it must be (amid their sufferings) to know that they can never again fall away from God!
They are free from all sinful affection and everything that leads to it!
Sin is now one thing they abhor. Its cruel consequences still are a source of intense loathing and anguish. The "holy" souls love God with their whole hearts, souls, and minds, and are unspeakably dear to Him.
St. Malachy's sister was so worldly-minded that her brother did not see her for as long as she lived. However, he saw her again in the spirit. After her death, a voice told him his sister was at the door, complaining that she'd had nothing to eat for thirty days. The saint understood what "food" it was she was after, for it was exactly thirty days since he had offered the sacrifice of the Living Bread (Eucharist) for her.
He offered this benefit again and soon saw her in a lighter garment and finally a third time clad entirely in white and surrounded by blessed spirits!
Show your love by giving the gift and joy of a Holy Mass. True Christians mourn their friends not in a vain hope but with a prayerful appeal -- at Mass -- to the Throne of Mercy. It helps them more than you will know until you are on the other side (with the perspective of the angels)!
[resources: Susan Tassone's books are available here]
[For Masses and Gregorian Masses click here]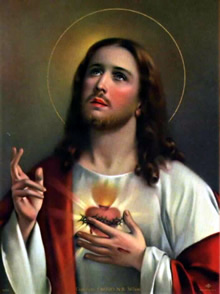 Return to home page www.spiritdaily.com