Our Memories of Sister Lucia, by Sister Maria Celina de Jesus Crucificado, the recollections of the cloistered nuns at Coimbra of their famous colleague, Fatima seer Lucia dos Santos, with fresh insights and details about her life and an in-depth description of her final years, especially the last days she spent on earth -- how she handled her impending end, what occurred medically, and how in the end this sure-for-sainthood nun passed on. CLICK HERE
---


__________________________________________________
'PROPHETIC NOVEL' ABOUT MYSTERIOUS LAND, A LOOMING PLAGUE, AND A STIGMATIC PRIEST
This week we are releasing a "prophetic novel," The Seven, by Michael H. Brown.
His first work of fiction, it's the suspenseful account of a mysterious government property that harbors secrets relevant not only to a young cop who tries to investigate strange goings-on there but also important to an equally mysterious and incredibly powerful old priest who joins forces with him to solve the mystery -- and attempt to avert an apocalyptic disaster.
"It's to be kept separate from my other work," says Brown, who has published twenty non-fiction books. "It is what it says: fiction. Are there elements relevant to the current prophetic pulse? That's up for readers to determine. It does state certain concerns and ideas that I have about the future, and it is certainly the account of good against something very, very evil. I hope it demonstrates the power of Mass and the Eucharist."
The story centers on strange sounds and bizarre animals around the property, which is next to a shrine dedicated to Our Lady of Fatima.
A diabolical and timeless entity. Strange howls. An occult force that must be confronted in the dark of a forest. A great "sign." Who is this nemesis? What might occur? Can they stop him?
A coming new plague? A massive exorcism?
"This book has gone through a tremendous number of rewrites," says Brown, who first began it in 1984. "It has evolved dramatically through the years -- and was not published until it felt comfortable spiritually, tackling very tough matter, perhaps not for the faint of heart, but in the end, I hope, more uplifting than even mysterious."
Are there implications for the current world scene?
Could any of the possibilities in this work that combines science fiction with the supernatural one day play out, perhaps even soon?
Might nefarious forces indeed conspire one day to bring about a world-wide holocaust?
Can they stop them from unleashing a torrent of biological mutations onto humanity?
[resources: The Seven (or 386-446-8139)]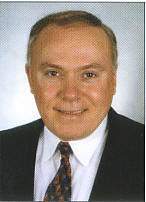 Michael Brown is the author of The Final Hour, After Life, Prayer of the Warrior, Witness, The Other Side, Tower of Light, The God of Miracles, The Trumpet of Gabriel, The Day Will Come, The Last Secret, Secrets of the Eucharist, Seven Days with Mary, Sent To Earth, The Bridge To Heaven, The Best of Spirit Daily, Laying Waste: The Poisoning of America, The Search for Eve, The Toxic Cloud, Marked To Die, and other books. He also directs this website and resides with wife Lisa and three children near St. Augustine, Florida. His work has appeared in publications from The Atlantic Monthly to Reader's Digest. In 1979 he was nominated in three Pulitzer Prize categories for his work uncovering the Love Canal toxic scandal. As a secular journalist he lectured at more than a hundred colleges and universities and appeared on many national radio and television shows.
Return to home page www.spiritdaily.com