Spirit Daily
__________________________________________
For your discernment:
From Esperanza To St. Bernard, Questions Raised On Christ's 'Intermediate' Coming
The late Catholic mystic Maria Esperanza, who foresaw attacks and destruction of "two towers in New York" long before the events of 2001, had also warned, just three days after September 11, that the terrorist attacks were designed to ensnare the U.S. in a war, and that if such happened, it would lead, as she repeatedly said later on, to a "tragedy." Along with the Pope, she had urged the U.S. not to engage in an outright conflict that would alienate allies and others who bore sympathy for the U.S. in the wake of the World Trade Center.
More than a year after her death -- and nearly three years since the onset of the Iraq hostilities (along with the battles in Afghanistan) -- it remains unclear what Esperanza, who died in August of 2004, and who is considered by many as the greatest mystic since St. Padre Pio, meant by the word "tragedy." Did she mean military deaths? Did she mean civilians? (According to President Bush, more than 30,000 Iraqi people, many children, have been killed in the crossfire.) Or did she mean something else -- something more esoteric? Was the Venezuelan seer referring to misfortunes that have occurred since? Or was she referring to a future event?
It was one of several key prophecies of hers, and at a time when support for the war may be rebounding (after a huge drop), the word "tragedy" continues to give pause because of Esperanza's startling accuracy in predicting September 11 to start with. As shown below in a headline on a early version of Spirit Daily, back in December of 2000, the Venezuelan was deeply troubled by what she saw as a "provocation" and repeated the warning right up until three weeks before 9/11.
That's one question; she saw many events in the world, especially by way of natural disasters; the other and more profound puzzle was her prophecy that Christ is ready for some kind of a manifestation.
It was Esperanza's view that Jesus would soon come in a different way than He did 2,000 years ago, that He would appear to many people, in a way that would be more private. She held this view up until her death. "It is very different than what people think," she had told us in December of 2003. "He is going to come in silence... People will realize He is among us little by little. His first presentation will be like this, because in those days an innocent person whom He loves a lot will die, an innocent person. This will shock the world, will move the world."
She speculated that the manifestation -- which sounds different than the actual Second Coming, and would precede what she called an "awakening" -- would occur in "from ten to twenty years" and that He would come "in the same way as He resurrected, as an apparition." "That's why I have been saying to be ready, because things are starting to happen," asserted the mystic, who was attached to the Church-approved apparition site of Betania and who saw 2004 as the start of it, a year that was to witness the onslaught of hurricanes as well as the great Asian tsunami and her own death. There are those who have wondered if the "innocent person" to whom she referred may have been Terri Schiavo.
Whatever the case, we take Esperanza's predictions seriously -- not as Gospel, but seriously -- due to striking previous hits and due to the holiness she exhibited right unto her own death.
Moreover, her words seem to connect with those of St. Bernard of Clairvaux (1090-1153) -- who once allegedly preached that in addition to the Second Coming, there would be some kind of intermediate appearance.
"We know that there are three comings of the Lord," St. Bernard is widely quoted as saying. "The third lies between the other two. It is invisible, while the other two are visible. In the first coming, He was seen on earth, dwelling among men; He himself testifies that they saw Him and hated Him. In the final coming, 'all flesh will see the salvation of our God, and they will look upon Him Whom they pierced.' The intermediate coming is a hidden one; in it only the elect see the Lord within their own selves, and they are saved. In His first coming Our Lord came in our flesh and in our weakness; in this middle coming, He is our rest and consolation."
That insight ties strikingly to what otherwise was a confusing part of what we have quoted and called the "1990 prophecy" (an anonymous and alleged locution from December of 1990 that has proven accurate in many regards).
Said that prophecy -- which also seemed to indicate more a manifestation than a final coming -- "I will come not as a man of flesh, but like My mother, who already nurses Me and holds Me in her arms, as a light and power. I will manifest Myself in a series of supernatural events similar to the apparitions but much more powerful. In other words, My second coming will be different than My first, and like My first, it will be spectacular to many but also unknown initially to many, or disbelieved. Yet truly I tell you, the arrogance of the world will have been broken, and so many more than normal will believe.

"I will come in towering light."
The Catechism of the Catholic Church teaches only a Second Coming that will come after the full inclusion of Jews in the Messiah's salvation and a final trial that will shake the Church, along with arrival of the anti-christ. "On Judgment Day at the end of the world, Christ will come in glory to achieve the definitive triumph of good over evil," states the Church, without mentioning or dispelling an intermediate manifestation.
[We say allegedly because though not specifically the one quoted above, some letters and treatises falsely attributed to St. Bernard are found among his works, such as the "l'Echelle du Cloître," which is the work of Guigues, Prior of La Grande Chartreuse. The quote on an intermediate coming is from St. Bernard's Sermo 5, In Adventu Domini, 1-3: Opera Omnia, Edit. Cisterc. 4 , 188-190]
[Below, headline from December 2000: "In unusually strong language," said the subhead, "and citing two foreign nations'... Seer Maria Esperanza warns U.S. and says world 'soon will be saddened.'" In the article, she said the enemies were already on U.S. soil. Nearly a decade before, Esperanza told pilgrims she saw two large towers in New York on fire, and related to us that she had seen them collapsing]
12/20/07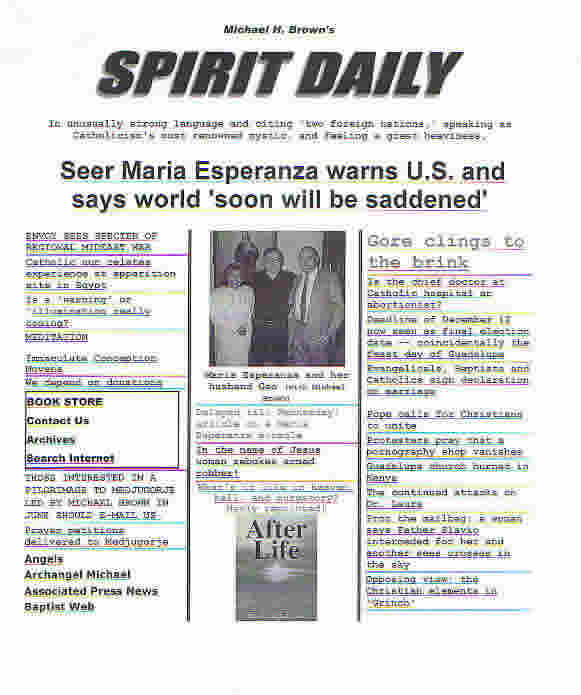 Return to archive page
You are at
www.spiritdaily.org