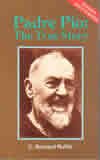 Padre Pio: The True Story By C. Bernard Ruffin, The most factual book ever written on the greatest mystic since St. Francis of Assisi, with unforgettable photographs (16 pages) and new material! Watch the remarkable miracles come to life with hard facts. Updated version. Must-have for any mystical library! The best book on him ever.
click here
---


__________________________________________________
IRISHMAN WHO WAS IN PADRE PIO'S INNER CIRCLE RECOUNTS SAINT'S PROPHECY OF WORLD EVENTS
A devout 93-year-old Irishman in Cork City who grew close to Padre Pio's inner circle during the early 1960s asserts that the saint had grave concerns about the future.
"The world is afire," the man, Dónal Enright, quotes Saint Pio, the famous stigmatic, as remarking, when asked about coming times. "The flames of perdition are already lit; if men don't return to God, millions will die and millions will prefer to be dead."
Enright said such prophetic utterances were conveyed to him and others by Mary Pyle, an American woman from New York City who spent forty-five years at San Giovanni Rotundo in the east-central region of Italy known as the Gargano as a personal assistant and interpreter for the saint. Entire books have been written about Pyle, who was received into the Franciscan Third Order by Pio himself and was described as the saint's best friend. She died the same year as Pio, an event that Enright says was foreseen by the future saint, who told her she would go before he did. (Pyle died on April 6, 1968; Pio died on September 23 of that same year.)
Enright said he did not carry on many direct conversations with the famous mystic out of respect for the monk but was often present in the sacristy with a small group of followers for the daily blessing following Pio's extraordinary liturgy. The saint gave a personal rosary to Enright, who arrived at San Giovanni in October of 1960 and spent the rest of that year and the entirety of 1961 in proximity to the Franciscan monastery that Saint Pio called home for half a century. Enright, who became a close friend of Pyle's, says he has no doubt that Pio foresaw extremely tumultuous times for men.
"In the end, the Immaculate Heart of the Blessed Mother will triumph," opines Enright, who is currently at a nursing facility in Cork City but remains unusually alert, well-spoken, and strikingly lucid. "It will not be the end of the world but of Satan's time; the devil will be driven back to hell. People will come back to God." For our discernment.
The Irishman further says he was told by Pyle that Saint Pio believed there would be a time of enlightenment after the chastisement and that "there will be a cure for cancer, and it will be so simple the medical experts will all wonder why they never thought of it earlier.
"It [the renewal] will be the biggest victory since Calvary. I believe there will be a 'warning' sign before Our Lady's victory, but I'm not sure when."
Enright indicated he does not believe the entire third secret of Fatima -- which included the image of an angel torching the world -- has been released.
Some of his assertions, of course, fall into line with dialogue that has been widespread in Marian circles for several decades. His quotations from Pio on fire affirm reports by authors such as Bernard Ruffin, who in a definitive book called Padre Pio: The True Story quoted the stigmatic saint as likewise saying, "Can't you see the world catching on fire?" when he was asked about future events. The notion of fire has been indicated at Church-approved apparitions in Kibeho, Rwanda and a tremendous wildfire in Wisconsin (the same day as the great Chicago fire) followed warnings of chastisement from the Blessed Mother near Green Bay in the first apparition ever formally approved in the U.S.
Or might "fire" be used symbolically?
Enright says he asked Pio through Pyle about alleged apparitions that were occurring at the time in north-central Spain in a mountain hamlet called Garabandal, which has been in the spotlight of late due to the death of a man who was closely affiliated with it. "She said he (Padre Pio) approved of it," Enright told Spirit Daily. "That was in 1961. When I went back and asked in 1963 about Garabandal, she (Pyle) said Padre Pio said that Satan had entered Garabandal. Pyle was emphatic about Garabandal."
Concerns about possible diabolical infiltration have been expressed elsewhere through the years, including by the mother of seer Conchita Gonzalez. Enright questioned certain prophecies from the apparition, including one to do with a priest who was supposed to be incorrupt but during a later reburial was found to be in a skeletal state. He asserts that when one of the seers traveled to San Giovanni Rotundo, she received a general blessing with others but later, when brought before Pio by a Spanish priest for a personal blessing, was denied for reasons that Pio never revealed. "They surmised it was because her skirt was a bit above the knees," Enright claims. It is impossible to confirm or dismiss such assertions. He also said there have been errant reports that a cloth or veil placed over Pio's face upon death had been given to the seer at Pio's request. "There were four cloths," says Enright, who kept close contact with those at the monastery. "They were like handkerchiefs. It was a priest who cut off a piece of one and gave it to the seer. There are just many, many errors in what has been written about Garabandal and Padre Pio."
Enright's assertions potentially explain discrepancies through the years, with some claiming Padre Pio believed in Garabandal and even encouraged at least one devout man, Joey Lomangino, of Long Island -- in 1963 -- to go there (Lomangino, who died last week, became a fervent promoter of the site; he returned often to visit San Giovanni Rotundo), while a priest, Father Ermelindo de Capua, who had served as Padre Pio's English translator in the saint's later years, says Pio was negative about it. The Garabandal seer reportedly visited San Giovanni in 1966 during a trip to Rome, where Pope Paul VI reportedly blessed her.
Enright believes that there is truth to the apparitions and that a prophesied great "miracle" will be seen at the site, high up in the beautiful Cantabrian Mountains. "It was definitely real. He [Padre Pio] believed the Blessed Mother was (initially) appearing there."
One website asserts that "Father Bernardino, then acting Superior of Padre Pio's convent in San Giovanni Rotondo, wrote a letter in 1969, which contained the following; 'While he was living, the same Padre Pio guaranteed the authenticity of the apparitions of the Blessed Virgin. He met with [the seer] at San Giovanni Rotondo. Even during the last days of his life, he talked about this to his brothers in religious life (noting that Padre Pio was also careful not to take a public stance on them)." We report, you discern.
6/23/14
[see also: Death of Long Island man bring Garabandal into spotlight and previous article on Enright]
[Note also: Michael Brown retreats: Connecticut!]

Donations: we need and appreciate it!
Spirit Daily on Twitter Facebook
Return to home page www.spiritdaily.com