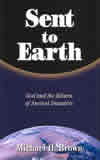 Sent to Earth (Michael Brown) Throughout the centuries, since Noah, there have been strange times: periods when floods, earthquakes, tidal waves, storms, droughts, plagues, volcanoes, and even asteroid or comet activity have haunted the earth. The hints are right there in the nightly news. It's about to happen again. God is poised to send major events, and it's for a simple reason. Like the people in ancient times, we've allowed evil to build up, and as a result we face happenings everywhere. This is the book Mother Angelica has called 'awesome.' As featured too by Archbishop Philip Hannan of New Orleans. CLICK HERE
---


__________________________________________________
FIRE AND RAIN: UNUSUAL CIRCUMSTANCES AND DISASTERS POINT UP A 'SPECIAL TIME' THAT ACCELERATES
What goes here? You want to talk fire?
There are wild fires -- as in California, Colorado, Arizona, and elsewhere -- and then, of late -- strangely -- all the other kinds of flame: a train explosion in Canada that may have vaporized victims, a fiery plane crash in the U.S. that came close to a real tragedy, a wildfire that blazed (and blazes) near Las Vegas, a fire in Paris that destroyed a house once owned by the Rothschilds.
This just in the past week. In Colorado, 486 homes were destroyed and thousands were evacuated, for the second time in as many years.
Signs here, of course.
Eight of the nine worst wildfires in recorded American history have occurred since 2000.
Fire, fire. Why so much fire?
What does it portend?
It has been the driest ever recorded for both California and New Mexico, and last winter was dry for the entire American West. A remarkable portion of North America is in drought, perhaps a very long-term one.
Rarely do we contemplate the repercussions of that.
As one writer pointed out, drinking supplies are vanishing rapidly, and a recent dust storm in Nevada was described by secular media as "apocalyptic" (as so many current events these days are).
Temperatures in Death Valley neared 130 degrees (officials have told visitors to stop frying eggs on the sidewalks).
It was a wildfire on the hills around Oakland, California, that helped serve as the kick-off, back just before 1990, for the current run of events.
Perhaps it's informative that the big flare-up where those nineteen firefighters were so tragically killed was in Yarnell, Arizona, the location of a significant shrine dedicated to Saint Joseph -- patron, of course, of the family. It occurred after that Supreme Court decision on gay marriage. (The shrine was somewhat damaged, but mostly spared, by the fire.)
And now, what about Canada also getting hit with rain?
The other day -- as authorities were investigating that catastrophic train explosion -- Toronto was hit with a month's worth of precipitation in a few short hours. Trains were under water. So were cars on highways. We hear so often these days "storm of the century" and "unprecedented."
Look too at the flooding in Alberta.
Meanwhile flash floods are now haunting parts of Colorado where the vegetation has been stripped away by those blazes (including Manitou Springs; see video).
We have previously discussed the incredible flooding at Lourdes. Near Medjugorje -- to whipsaw back (as events will continue to whipsaw, with greater intensity) -- it has been wildfires.
One prophetic word said to look for a "huge light" and "great smoke."
Much is transpiring. Much will. Said the writer previously cited, "Our most important sources of fresh water in the western half of the nation are rapidly running dry, and the 'breadbasket of America' is starting to turn back into the Dust Bowl. What are we going to do when the water is gone? What is going to happen to food prices if crops start failing out west year after year? And what is the western half of the country going to eventually look like if wildfires continue to get even worse?"
There is also a recent message from Medjugorje from a normally reserved seer, Ivan Dragicević, who rarely indicates future events (and ardently discourages discussion of them). He quoted the Blessed Mother as telling him (on July 8, 2013), "Dear children, as of today, in a special way, I desire to call you at this time in a special way to pray for my intentions. Pray, dear children, for the plans that I desire to be realized. I need your prayers. I desire to realize them through you. Thank you, dear children, for responding to my call."
It was unusual language -- last used in this fashion a decade ago in a message to another seer there, Mirjana Soldo.
"At this time..."
"In a special way..."
As one official, David Phillips, a senior climatologist at Environment Canada, told us, referring to an incredible ice storm some years back, "It was the most destructive, disruptive storm in Canadian history.
"We've looked in our weather files to see something like this, but nothing exists there. Maybe in the X-Files, but not in the weather files."
[resources: Michael Brown's upcoming Fear of Fire]
Spirit Daily on Twitter Facebook
Return to home page www.spiritdaily.com
click here to go back to main book page or For second section of books click here or Spirit Daily Gift Store here
click here for: healing books, here for afterlife, here for spiritual warfare, here for Father DeGrandis
Michael Brown's books autographed [click here]; Book specials here