Spirit Daily
__________________________________________
As Year Winds Down And New One Looms, Rumors And More Rise Of Prophetic Kind
By Michael H. Brown
As 2005 winds down, prophecy is rising on all sides, as it does each time we approach a new year. This time there's special intensity due to the natural disasters: earthquakes and weather events dominated the news as the world experienced a record $200 billion in disaster-related losses -- far more than the $145 billion in 2004 (which was the previous record).
It's hard not to take note of that at the same time that we have to be very careful with prophecy -- discerning not only seers but each message even from those who have possessed credibility in the past. Like I stated a few days ago, watch especially for those who quote years.
Oh, a moment it is: while there are all the visions, there are also those who denounce such things; they too rise! One woman is writing a book about how hundreds of current visionaries are false. How does she know? She herself, of course, has "mystical" experiences.
As I've said, such experiences have expanded into the general populace -- although we still hear from older seers such as Ukrainian mystic Josyp Terelya. I've spoken to him a couple times in the past week because he is an old friend and suffered a severe heart attack in Ohio last Friday.
Terelya -- who was released from the gulag after intervention by the Reagan Administration and experienced apparitions of the Blessed Mother in the 1970s while suffering horribly in Special Corpus 2 at Vladimir Prison (about a hundred miles northeast of Moscow) -- had three stents placed in blood vessels over this past weekend and is expected to receive a pacemaker today (12/15/05) at a hospital near Cleveland. We have asked prayers for this great warrior, who is now sounding stronger and is still mourning the loss a year ago of wife Olena. Josyp met privately several times with John Paul II, who he believes was likewise a mystic.
It is always a little difficult to speak with Josyp without an interpreter and when I asked him about a prophecy attributed to him and circulating widely on the internet (one that foresees more natural events for Canada and the U.S.), he did not seem to know what I was referring to. His main interpreter says the message was actually from an alleged stigmatic from Florida who was visiting Toronto, where Josyp lives; thus the confusion.
But it is indicative of what many seers claim to hear. The alleged message:
"Peace be with you, My child! I have come to bring another warning to My children. The warnings given before and many times, have gone unheeded by most souls. Have the natural disasters and illnesses that have come upon mankind not been enough for all to open their eyes as well as their souls? No, for the warnings are not taken seriously!
"However, many will experience the terrible fate that awaits many. In North America (USA and Canada especially) there will occur many earthquakes, hurricanes, and sicknesses. In your beloved Toronto, there will be a sudden outbreak of virus that will cause great sickness and death, especially among the elderly and the very young. Soon panic and fear will grip the hearts of My poor children.
"Many will turn back to God, as they have in past times when tribulation had occurred, but many only for a short time. In the USA, even more disasters will take place. Great outbreaks of sickness will overtake many areas. Like in Canada, extreme amounts of snow and rain will fall causing great flooding and destruction."
According to one website, this was followed by a call to fast on the third Saturday of each month starting here in December. The Sorrowful Mysteries were also to be prayed, supposedly, along with the Divine Mercy chaplet, and seven candles (four red and three white) set on a home altar, all to stave off attacks from the evil one.
While that did not come from Josyp, he does claim to have received a message on November 15 at the reputed apparition site of Marmora in Ontario, Canada, at which time he asserts that he saw "the Living Mother of God" at the tenth Station of the Cross (and at which time came a surprisingly gruesome prediction of plague).
Obviously, we are in the process of discernment. We'll follow up at a time when there are no many such messages. As always, we mention the need for caution -- especially if a message is too gloomy and leaves the spirit in an arid state. At the same time, we have no claim to be masters of discernment ourselves. We report on certain of the more prominent ones and let you draw your own conclusions.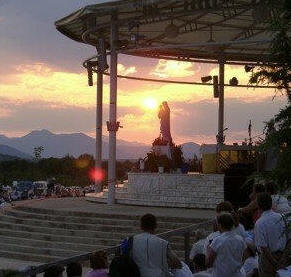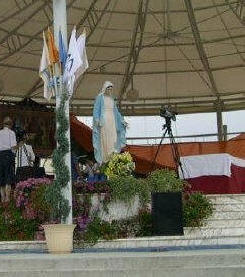 There are so many things occurring it's hard to keep up with them. There is the "weeping" statue of Mary in Sacramento that is drawing international headlines (ah, yes: "Sacramento" means "sacrament," and the exudation was blood, just before an execution in that state, if there is any link there, or if the emanation symbolizes sin across the world). And at Medjugorje last summer, a reader shot the photo to the left [above], showing the silhouetted statue of Mary holding Jesus at sunset during a prayer festival behind St. James Church. The mystery was in the fact that the actual statue does not have the Christ Child.
"The two pictures are of the same statue but one looks like it's holding a baby," notes the sender. "Pretty cool. Look at her hands in the first picture [right]," during the day and from an opposite angle.
Hmmm. So many things. So many (alleged) signs in the sky. What do we trust? What do we not trust? Along with alleged seers, we report on what common folk claim in accordance with Scripture, wherein (as stated in Joel) young men were to receive visions and old men dreams. Here is the quality control problem, and the need for discernment, is yet greater.
"This past week I was driving with my son to the university on a very dark morning, about 10 a.m.," writes a woman in Kent, Ohio. "I commented about how cloudy the day was, but then saw a small, beautiful area of blue sky. Here's the unusual part: the patch of blue was in the shape of the United States! I asked my son if he also saw the U.S., and he said yes. With another look, the coastlines to the west, northeast, and southeast were gone. Immediately this little patch of blue disappeared. I don't know if other people saw this, but I thought I would share this experience with you."
"Three weeks ago I had a vision during my Sunday morning prayers (November 2005), that a giant black, translucent cloud that was above the cities of the US, was to begin on the West coast, then watching this cloud, it went across the entire U.S., in one day," says another viewer, David Ross of Farmington Hills, Michigan -- among the average readers whose visions we weigh, from time to time, not knowing exactly how to weigh such. "The cloud and it's color in my vision indicated that an either evil event or a purification (heavenly warning) would happen in California and cause enough problems, that it would effect the entire U.S. in one day -- to get our attention back to GOD."
Meanwhile, and perhaps most tellingly, we heard from a priest in the U.S. who said he and other pilgrims saw Mary at Medjugorje in 1991 and that afterward he was persecuted by other clerics.
"The response from my fellow priests in my parish was surprising," he told us. "One said he thought I had a breakdown, one said I was making it all up or that I imagined it all -- it was best not to talk of it...
"The most outspoken about my experience was a parish priest who would actually refute my testimony after Mass to the people and at his Mass. He told everyone I was insane... He was later exposed at having raped over twenty boys from that parish. He is no longer a priest. The pastor was exposed at having known and done nothing.
"An interesting prophecy from Mary I repeated to them: 'If you do not repent, the world as you know it will come to an end.' Some were upset, some said I made it up or I was crazy. Others took it for what it was and repented.
"The parish is now destroyed because of the scandal, the people divided, the faithful long since gone....the prophecy came true; "If you do not repent, the world as you know it will come to an end."
But as this priest also said, there was the up side. Mary also told him, allegedly, "you will be put in a parish under my protection."
And so it happened. He was transferred. "She said she would teach me how to say 'the Mass of her Son," he relates. "Since 1991, each Mass is a bit of Heaven on earth."
12/15/05
Return to archive page
You are at
www.spiritdaily.org