A Life of Blessings, by Michael H. Brown, a book of inspiration, hope, and enlightenment by a bestselling author who has compiled and adapted the many popular articles he has written online for this little tour de force that covers a multitude of issues -- from healing and deliverance and joy and peace to preparing for death and the afterlife -- each chapter (there are 43) a little essay or article on how we pray best, how we purify, how with God there is always hope (an 'exit'), how we rid fear, obsession, attachment, what to do when we hit 'rock bottom,' and much more in his most exciting book in years. (below for paper; here Kindle

or Nook

CLICK HERE
---


__________________________________________________
BETWEEN HERE AND ETERNITY IS A THIN 'VEIL' AND BEHIND THAT RELATIVES WHO HAVE GONE BEFORE US
Every so often we hear the term "veil," as in the afterlife. Just last week, a reading at Mass from 2 Corinthians 3 reminded us that "whenever a person turns to the Lord, the veil is taken away."
What is the veil?
Sometimes the word is used to describe spiritual blindness, as in Moses' time. No question: when it covers our eyes, it means hardness of mind and heart. That hardness, formed by sin, clouds spiritual vision.
The term is used most frequently, however, to describe the partition between earth and eternity.
For a veil it is: the barrier between here and there, thin, sometimes transparent, on occasion "poked through" in the way of apparitions or miracles or some form of communication.
One person who had a near-death episode saw this "partition" scrolling back like a glass door unto itself as she glimpsed back at earth while on an alleged journey to Heaven, and in case after case, those with such experiences emphasize how close Heaven is to us -- how God is right here, even though we don't realize it.
Upon death, after the veil is "parted" (sometimes via a "tunnel"), we will encounter a spiritual world that includes loved ones who have gone before us. For they too are "right here." During one apparition the Blessed Mother reportedly said that as we pray for the deceased, the veil is parted and they can see us!
"First, I was in a dark hallway, a tunnel of sorts," recalled one such experiencer, Gladys L. Hargis of Topeka, Kansas, who had her near-death brush in August of 2006. "I could see a light at the end of the hallway and a sheer curtain through which I could see persons moving about.
"Immediately a bright light surrounded me, filling the area where I stood. It was beautiful beyond description, so beautiful that it took my breath away. I'm not certain I can find the right words to describe it. Standing in the light made me feel whole, pure, blessed, free, and loved. It was awesome. I wanted to bask in the energy and never leave. As I looked around me, to my left I saw a curtain. Shaped like a steeple, it was closed at the top and opened at the bottom. I could see people moving about beyond the curtain. There was a darkened area that I would have to cross over, and somehow I knew that I would probably not come back to earth if I went through the curtained area."
As in so many cases, there was a "point of no return."
Some describe it as a "valley," others a gate or fence, still others may encounter a hedgerow.
A young girl who was dying emphasized the nearness of the next life.
"Two days before she died, the superintendent of her Sunday school came to see her while she was enjoying a lucid period," noted researcher and cardiologist Dr. Maurice Rawlings in Beyond Death's Door. "As he was leaving, he turned to her and said, 'Well, Daisy: you will soon be over the dark river,' obviously referring to her imminent death. Daisy appeared puzzled by the reference. 'There is no river,' she replied, 'there is no curtain, there is not even a line that separates this life from the other life."
In Heaven itself (after that "valley," when a valley in experienced), there are no shadows as light comes from within all that is there.
Gladys, who penned a fascinating little book called You Live Forever, said that among those she saw was Mother, the Mother of Jesus, sitting on a smooth stone bench, smiling.
"In looking back and putting the pieces together, I feel that after you go through the white cloud and your soul is cleansed, that you see a beautiful city beyond," she says. "You will have to go through that filmy curtain, then into the garden gate. Your friends and relatives have come and welcome you. Then you will go through the domed building and on into the eternal city. Some people tell me that they do not want to leave their loved ones, but the angel said to me that your loved ones are with you in Heaven. To understand this you must remember that there are no clocks in Heaven, so time is not important. When you are ready to leave this earth, your loved ones who have gone ahead will come back for you and receive you as well. The ones left behind will be there before you have a chance to miss them."
2/5/13
[resources: You Live Forever and The Other Side]
[Michael Brown retreats: afterlife, Blessed Mother, spiritual warfare: Michael Brown retreat in Baton Rouge, Louisiana, Seattle, and Portland]
[Footnote from Hebrews 10:19-25: "Therefore, brethren, since we have confidence to enter the holy place by the blood of Jesus, by a new and living way which He inaugurated for us through the veil, that is, His flesh, and since we have a great priest over the house of God, let us draw near with a sincere heart in full assurance of faith, having our hearts sprinkled clean from an evil conscience and our bodies washed with pure water. Let us hold fast the confession of our hope without wavering, for He who promised is faithful; and let us consider how to stimulate one another to love and good deeds, not forsaking our own assembling together, as is the habit of some, but encouraging one another; and all the more as you see the day drawing near."]
Spirit Daily on Twitter Facebook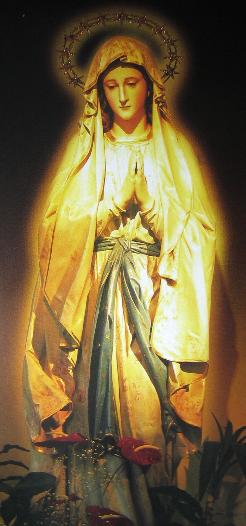 Return to home page www.spiritdaily.com
click here to go back to main book page or For second section of books click here or Spirit Daily Gift Store here
click here for: healing books, here for afterlife, here for spiritual warfare, here for Father DeGrandis
Michael Brown's books autographed [click here]; Book specials here