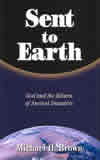 Sent to Earth (Michael Brown) Throughout the centuries, since Noah, there have been strange times: periods when floods, earthquakes, tidal waves, storms, droughts, plagues, volcanoes, and even asteroid or comet activity have haunted the earth. The hints are right there in the nightly news. It's about to happen again. God is poised to send major events, and it's for a simple reason. Like the people in ancient times, we've allowed evil to build up, and as a result we face happenings everywhere. This is the book Mother Angelica has called 'awesome.' As featured too by Archbishop Philip Hannan of New Orleans. CLICK HERE
---


__________________________________________________
BEFORE GOD 'CLEANS HOUSE,' IT WILL LOOK LIKE HE HAS TURNED IT UPSIDE-DOWN AND INSIDE-OUT
It doesn't seem necessary to continue repeating what we have since The Final Hour (1992): that the weather is shifting, is erratic, is gyrating, as is all of nature. Events are speaking for themselves. There are the tornadoes and temperature shifts (no spring in much of North America) and floods in Europe (in some parts, floods like they have not reportedly seen in five hundred years). There will be a great storm this year. Everyone now takes notice of it. Everyone blames it on everything but transgression. A massive system of precipitation approaches regions in the United States at the same time as an "apocalyptic" sandstorm blasts through Nevada. Perturbations occur in the natural along with the synthetic -- in Creation as well as in the societies and constructs of men. Very little that is "big" secular news is big, but there are indicators. Much will change, which is good. We are out of conformance (very) with what God intended. Few list such non-conformance as the sin it is. Pope Francis does and is in touch with the Holy Spirit. Politics are minor, save for how they affect issues such as war, abortion, and Creation. There are many diversions; they fill talk shows. The big deal is in the realm of genetics. It is important that we note the move to a new world order. It is also important that we not perceive it through the lens of only politics. Global corporations pave the way. In the pursuit of excess, there is little left that is natural. Europe struggles to keep America's genetic manipulation at bay. It is evil to disturb what God fashioned. Virtually all secular news outlets have noted the incontrovertible upheaval in nature. Few analyze why it rebels. Change is underway. God is to be praised. Slowly but surely. Soon, not quite so slowly. The best preparation is prayer. As noted recently by a website dedicated to the Blessed Mother, in excerpts from a book called A Conversation with the Visionaries, by Kresimir Sego:
"Q: Comparing apparitions in Medjugorje [where the original church was badly damaged by a quake] with the most famous apparitions in the rest of the world, we see similarities, but there are also differences: mainly, the number of visionaries, the many messages received, the enormous number of apparitions, as well as the duration of the apparitions. Do you understand why the apparitions are still taking place?
"A [Seer Mirjana Soldo]: In this way, the Blessed Virgin Mary is preparing us for everything that is going to take place through the love of God our Father. She said that she would finish in Medjugorje what she has started in Fatima, and that Her heart would prevail. She is preparing us for this victory. When these events will begin, people will understand why she chose the 18th of March and why the apparitions take place every second day of the month. They will understand the importance of these dates, why she has been appearing for so long, and why so many visionaries.
"Q: Do you see any signs of these events being put into motion? Are they happening now, or are they awaiting us in the far future?
"A: I see small signs, they are already here; slowly, things are starting to move. Women will understand me better with the following example: when we want to do our spring cleaning, we first turned our homes upside down. We move our sofas, cupboards, tables, chairs – nothing remains in its place. To someone it may seem like a mess but, when we put everything back into its place, everything is spick and span. Therefore, if we wish to make some order, we first need to make a big mess. I can see the signs of this."
So can we.
[resources: The Last Apparition, The Final Hour, Sent To Earth, and Tower of Light]
[see also: Orthodox official: West ready to collapse]
Spirit Daily on Twitter Facebook
Return to home page www.spiritdaily.com
click here to go back to main book page or For second section of books click here or Spirit Daily Gift Store here
click here for: healing books, here for afterlife, here for spiritual warfare, here for Father DeGrandis
Michael Brown's books autographed [click here]; Book specials here