A Holy Life, for the first time in English (edited by by Dr. Patricia A. McEachern), the writings of St. Bernadette of Lourdes -- way beyond the basic facts of the famous apparitions into the profound holiness of the seer and her spiritual insights. This is the depth of reading to which we are all called as it takes us into the sacred realms of prayer, simplicity, charity, and the power of suffering, presenting a wide array of her thoughts, advice, sayings, and prayers! Learn the secrets of her interior life and potent happiness! CLICK HERE
---

__________________________________________________
FOR WHOM THE BELL TOLLED: DEATH OF ONLY CATHOLIC PRESIDENT WAS STEEPED IN MYSTERIES AND RAMIFICATIONS
The assassination of America's first and only Catholic president and also the most photogenic and charismatic leader in modern times ("Camelot") marked not only a tragedy of epic proportions but was a watershed for the United States: the end, as is rightly said, for the nation's Age of Innocence.
Something very deep, something that still bears mystery, occurred that day in Dallas fifty years ago this week, something that went beyond the tragedy of a slain leader, something that, like Lincoln, had an unnerving spiritual (as well as a political) underpinning.
It was followed, of course, by the hippie movement, the "British invasion," war protests, the sexual revolution, an explosion in drugs, street crime, riots, public lewdness, and soon abortion: a descent into darkness that one could argue had started already with the rockers of the Forties or Fifties and TV but now became precipitous.
A shadow was cast and remains -- obvious in how often the assassination, the motorcade, the shots in Dealey Plaza are endlessly recounted.
More than two thousand books have been written about it.
Yet, the truth remains elusive...
There are fascinating aspects.
As we first reported twelve years ago, there were rumors -- some intriguing -- that right before JFK arrived in Dallas, while in Fort Worth, he had gone to Confession. You can read much more about that here. While there was that salacious side to the President (no one can deny the abhorrent womanizing), and his downplaying the role of Catholicism (as in his famous Houston speach), there was also, from his mother Rose, the devotional aspect.
Just recently, what were described as a "well-worn" set of Rosary beads used by JFK went up for auction.
His brother Robert died with a pair in his hands.
The President was a regular attendee at Mass, and years ago, the late Archbishop Philip Hannan, who con-celebrated at JFK's funeral, and delivered a eulogy (as a friend and consultant to the Kennedys), told us that "Jack," as he called him, had a real Marian side, contacting the archbishop to help arrange for a low-key visit to the Basilica of Guadalupe during a trip to Mexico City. He didn't want to be marched up the aisle and seated in the sanctuary -- as had happened during a visit at a cathedral in Europe. "He said, 'I don't want that to happen at all,'" recalled Hannan of the president. "He said, 'Do you know anybody down there, a cardinal, so you can steer me out of that?'
"I told him I did know one of the bishops and so we had it fixed that they would not greet him at the entrance of the cathedral at Guadalupe. When he went there, there was a bigger crowd than when he entered the city and went through the city with the president of Mexico."
The fact that Kennedy would choose to visit this shrine is testimony to some kind of affinity, by all odds hardwired by his mother, for the Blessed Mother. Indeed, Rose attended daily Mass in Hyannis Port, Massachusetts and when John was a congressman and then a senator, he even served as an usher, taking up the Sunday collection, said Archbishop Hannan.
Below, at the end of this article, you will see an account of how a priest called by Jackie administered the "last rites" to the 35th President.
There is that.
But there are so many other turns and twists.
Many were mystical.
Like 9/11, people had premonitions of the tragedy.
Just before his trip to Dallas, Kennedy himself was said to have had a foreboding -- mentioning to his sister-in-law how the trip could be his last, then also wondering aloud how easy it would be for an assassin to strike him from a building.
Waiting for Mass to begin one Sunday morning, the President turned to reporters sitting behind him and said, "Did you ever stop and think, if anyone tried to take a shot at me, they'd get one of you guys first?" Referring to assassination, JFK liked to quote Ecclesiastes: "There is a time to be born, and a time to die." Astoundingly -- as his trip to Dallas approached -- the young president repeated apprehensions about it. "I hate to go out to Texas," he told Senator George Smathers. "I just hate to go. I have a terrible feeling about going. I wish I could get out of it." The night before leaving his sister-in-law Ethel noticed his grave demeanor and wondered what was wrong. During the trip, in a hotel in Fort Worth, after reading a threatening newspaper ad by a group that hated him, author James W. Douglass says the President turned and said to his wife, "Jackie, if someone wants to shoot me from a window with a rifle, nobody can stop it, so why worry about it? You know," he added, "last night would have been a hell of a night to assassinate a president..."
There is the "curse": the many, many tragedies afflicting this iconic American family [see here]. Many! Few remember that the lectern began to smoke (profusely) during the inauguration of John F. Kennedy as Cardinal Richard Cushing of Boston prayed the invocation (a heater apparently malfunctioned, causing smoke to pour from both sides as the prayer was read; you can view it here.)
Was there a conspiracy?
It is another mystery.
It's another controversy. Read more here.
Was it the C.I.A.? The Mafia? Or are conspiracy theories just parlor games? Was there a Masonic element? J. Edgar Hoover was a Freemason. So was Lyndon Johnson (who Jackie Kennedy suspected). Freemasonry is not exactly in tune with Catholicism. But there is no evidence of either of those two high officials being involved and probably, if a conspiracy, as recounted by Douglass, it was basically a foreign-affairs C.I.A. thing. This is hardly to say that President Kennedy was perfect. But it is time to get to the root. In fact, it seemed like the Sixties saw a tremendous surge of evil that remains with us. "One of the awful facts of our age," wrote Thomas Merton, who corresponded with JFK, "is the evidence that [the world] is stricken indeed, stricken to the very core of its being by the presence of the Unspeakable."
It is what we mean by unnerving.
The C.I.A. remains in need of a closer look. We reported on this previously.
Lastly, there are the further strange "coincidences."
Abraham Lincoln was elected to Congress in 1846, Kennedy in 1946; Lincoln made it to president in 1860, Kennedy, 1960; both were shot on a Friday in the head; Kennedy's secretary was name Lincoln (and she warned him not to go to Dallas); the successors of both were named Johnson (one born in 1808, the other, Lyndon B. Johnson, in 1908).
And so there is this mysterious element.
It will never all be solved.
What we know is that Kennedy was a practicing if imperfect Catholic and that he was also the youngest President in history and there were Last Rites and a Requiem Mass for him and when we think back to the November -- those who recall it -- we see that image of young son John Jr. (who would later also die tragically) saluting his dad as the casket rolled near St. Matthew's Cathedral along with that riderless horse...
-- Michael H. Brown, 11/19/13
[resources: Michael Brown retreat in Charlotte, North Carolina: afterlife, spiritual warfare, family healing and Christmas books]
---
[Footnote:
In lieu of an abstract, here is a brief excerpt of the content:
Courtesy of the DeAndreis-Rosati Memorial Archives, DePaul University, Special Collections and Archives Department, Chicago, Illinois.
On November 22, 1963, the Very Rev. Oscar L. Huber, C. M. administered the conditional last rites of the Roman Catholic Church to the mortally wounded Pres. John F. Kennedy. The Vincentian priest's religious service that day in Dallas, Texas, unexpectedly thrust him into the national spotlight, as the New York Times, the Dallas Morning News, and several other metropolitan newspapers interviewed him about his last moments with the slain president. But the modest, soft-spoken priest found neither glory nor honor in his service that day, because Time magazine correspondent Hugh Sidey and several other members of the national news media reported that he was responsible for leaking the news of the president's death several minutes before the official White House announcement. What began as Father Huber's proverbial "fifteen minutes of fame" mutated and then stretched into a decade of attention and speculation. The purpose of this research note is to examine the evidence concerning exactly what Father Huber said and did not say about the death of President Kennedy on the afternoon of November 22, 1963. In retrospect, the matter may seem minor, but it was of vital importance to Father Huber. Moreover, it provides yet another example of the chaos and confusion that reigned in Dallas on that fateful day.
Until the day of the assassination, Father Huber had never seen a U.S. president in person. And so, shortly after noon on Friday, November 22, 1963, the seventy-year-old priest walked the three blocks from Holy Trinity Catholic Church where he served as pastor to watch President Kennedy's motorcade pass along the parade route. Only five-feet-five-inches tall, Father Huber had to stand on tiptoe to see over the heads of the other spectators who crowded the sidewalk in front of him along Lemmon Avenue. And, for a brief moment, the priest caught a glimpse of the president. Father Huber thought that President Kennedy noticed his Roman collar and waved to him. After the motorcade was out of sight, Father Huber returned to the parish rectory, eager to share his story of seeing the president with his colleagues. "It was," he later recalled, "a thrilling moment for me."
By 12:36 P.M., however, everything had changed. Father Huber was eating lunch when Father James N. Thompson, his assistant pastor, burst into the room and gasped, "The president's been shot." A television bulletin soon confirmed that President Kennedy had been wounded and was being transported to nearby Parkland Memorial Hospital, which was located within the Holy Trinity Parish. Because the two priests regularly attended to the spiritual needs of the patients there, Fathers Huber and Thompson raced to the hospital without waiting to be summoned. Shortly after they departed, a Parkland administrator telephoned the rectory at Jacqueline Kennedy's request, asking for a priest to minister to her husband. Someone told him that two priests were already en route to the hospital.
Swarms of automobiles and curious onlookers had already begun to jam the area surrounding Parkland, so it took the two priests nearly fifteen minutes to reach the emergency room entrance. While Father Thompson parked the car, Dallas police officers escorted Father Huber through the crowd of nearly two hundred bystanders and into the hospital. The scene inside was utter pandemonium. Earlier, at 12:35 P.M., just five minutes after three shots were fired at Dealey Plaza, the Lincoln Continental limousine carrying the fatally stricken President Kennedy and Texas governor John Connally, who was also unconscious and critically wounded, had arrived at the hospital. Now, as Father Huber entered, the hospital corridors were crowded with doctors, nurses, White House staff members, and political dignitaries who had been traveling...
Notes the Huffington Post, "a phone call came from the hospital with a request from First Lady Jackie Kennedy asking that a priest come to administer to the spiritual needs of the President. Rev. Huber, along with an associate were on their way.
Rev. Huber described the scene: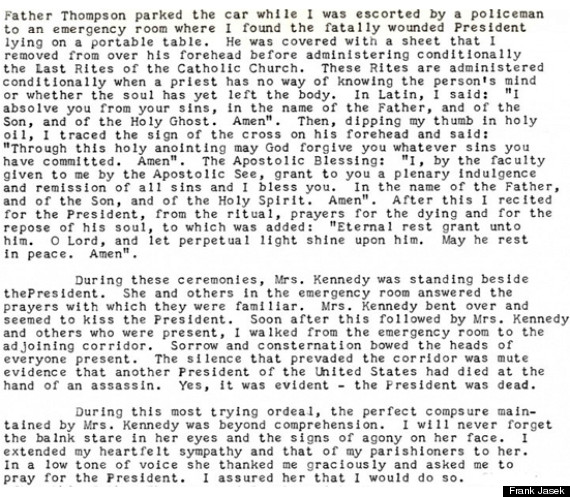 [resources: Fear of Fire and Our Lady of Kibeho]
[
Print article
]
Spirit Daily on Twitter Facebook
Return to home page www.spiritdaily.com
click here to go back to main book page or For second section of books click here or Spirit Daily Gift Store here
click here for: healing books, here for afterlife, here for spiritual warfare, here for Father DeGrandis
Michael Brown's books autographed [click here]; Book specials here