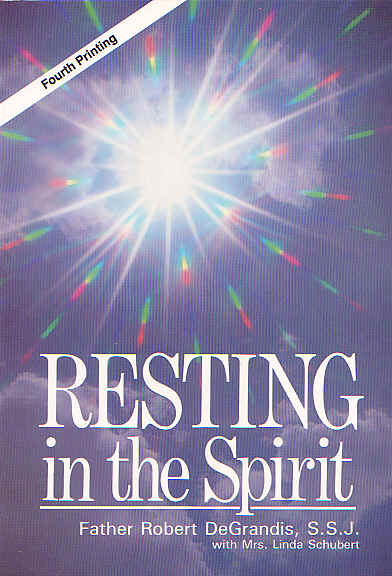 Resting in the Spirit by Father Robert DeGrandis In this valuable book Father Degrandis explores the very biblical foundation of being "slain" in the Spirit and its precedents with bishops and saints. It's a book that explains and clarifies!
click here
---


__________________________________________________
WHEN A MEMBER OF KNIGHTS FROM WISCONSIN FLAT-LINED, HE SAYS JESUS AND HIS DAD APPEARED WITH MESSAGES
What do you say when a staunch Catholic who is big with the Knights of Columbus in Wisconsin has a heart attack and after a clinical death describes what Jesus looks like?
Well, probably you say very little. Instead, you listen. We get bits and pieces from a video.
"On July 14th, 2013, I wasn't feeling very well," says this fellow, Patrick, from Sacred Heart parish in Marshfield, Wisconsin, who at the time of his "death" was state chairman of the Knights golf tournament. "I was spitting blood. And that evening a co-chairman came by and it wasn't looking very good." It was obvious -- alarmingly so -- that Patrick had to go to the emergency room.
He was admitted. On the fifth day of hospitalization the doctor wanted him to take a short rehabilitative walk. He warned them that he didn't feel well. "I get up and I get maybe five steps and I felt myself getting kind of weak and my knees buckled and I looked down and collapsed," he recounted.
He flat-lined. A heart attack. He's a big man.
"You hear about folks seeing lights?" he says in a YouTube video. "Well, I really believe it now. The sun is bright? This light was ten times as bright!" Others who have had similar experiences say even brighter. Anyway:
"All of sudden two persons come from this light. I was like, okay. They came closer and closer and closer until they were right in front of me. You can guess who one of them was. One was Jesus Christ. Jesus didn't say anything at first. He showed me His Hands that they crucified, His feet, His side, the holes, and then He spoke to me. He said, 'Patrick, we're not ready for you yet.' I said, 'No?' He said, 'I'm going to bring you back to earth, back to life, but you have to do Me a favor.' I thought, 'Gee, Jesus wants me to do Him a favor.' He said, 'You tell everybody you know and everybody you don't know that there's an awesome Heaven waiting for them when they die.' He said, 'Second part: tell them there's a Jesus Who loves them unconditionally no matter what they've done. I love them with an unconditional love, but make them believe.'"
The Lord (allegedly) "wasn't light-skinned, and wasn't dark-skinned, He was a cross between everybody -- He was more like a person who had laid out in the sun and got a tan, brilliant radiant gold. He had hair about down to here [indicating below his shoulders] and He was about 6'1" and He was super-cool, with a sense of humor. He just put my life and my mind at total ease. I don't have to worry about anything anymore. He had the most awesome brown eyes, almost piercing, but He looked right at me. That was when He said, 'Patrick, we're not ready for you yet.'" It is Patrick's way of recounting it, for our reckoning. As far as his Dad:
"He died thirteen years ago and he was 85 when he died," says the Knight. "Now up in Heaven he's 45, because you can pick your own age up there. Suddenly, I'm 48 and older than my dad! How does that work?! He said, Patrick, two things, actually three: do yourself a favor: get yourself in better shape, you're a little large, and just listen to what Jesus told you. You're doing a great job and I see it every day. Just remember what Jesus told you. We'll see you in forty or fifty years.'
"Just like that they were gone."
Patrick came to -- there were doctors and nurses surrounding him, in a mad dash to save him -- and he didn't understand why they were there. They explained what had happened and what they had done, medically, to bring him back.
"You say you brought me back to life?" he said. "Well, you may have had something to do with it." There were eight to ten people there. Most of them cried. One doctor said it was a hallucination. Later, the pastor at Sacred Heart asked to tell the folks at three Masses about it.
Quite a hallucination, this.
There's that consistency with those who briefly enter the hereafter: "You're not ready yet. You have more to do. It isn't your time."
It isn't "mission accomplished" yet.
[Note also: Michael Brown retreats: Philadelphia-New Jersey and Announcing a retreat, Mass in Danbury, Connecticut]
Donations: we need and appreciate it!
Spirit Daily on Twitter Facebook
Return to home page www.spiritdaily.com